Despite Max Verstappen's colossal lead in the championship, the reigning world champion and Ferrari driver Charles Leclerc are still the two title rivals of this Formula 1 season. And both drivers had a bad day in Hungary. But they weren't the only ones.
"Terribly bummed", Verstappen even said. Just like a week ago, Formula 1 followers were robbed of a real battle at the front, this time by an engine problem in the Red Bull. A new measuring moment would come, on a track that suits Ferrari better on paper. But the Red Bull was pretty close on the asphalt. Not as close as the Mercedes in the end, but Verstappen was a contender for pole position. The Honda engine put a stop to that.
Knowing that Red Bull Racing had done a good job on the car from Friday to Saturday, it was extra sour for the World Cup leader. In advance he may have designated this race to have a lesser weekend, under the motto 'if it does happen once, then there'. But now there is no real chance of winning on Sunday. More on what it takes for that later.
First to Leclerc. He was also very upset afterwards. His biggest competitor did not participate in Q3, but now it was suddenly his teammate Carlos Sainz who proved to be a difficult opponent. And it was annoying that it rained Saturday morning. As a result, all the rubber washed off the asphalt, so that the firmness with which the Ferrari was still going over the Hungaroring on Friday was gone. "Everything is different," lamented Italian team racing director Laurent Mekies. Rain is never a good thing on a track where you are clearly the fastest in dry weather. It already happened to Ferrari in Monaco.
George Russell prevented a full front row starting line for Ferrari.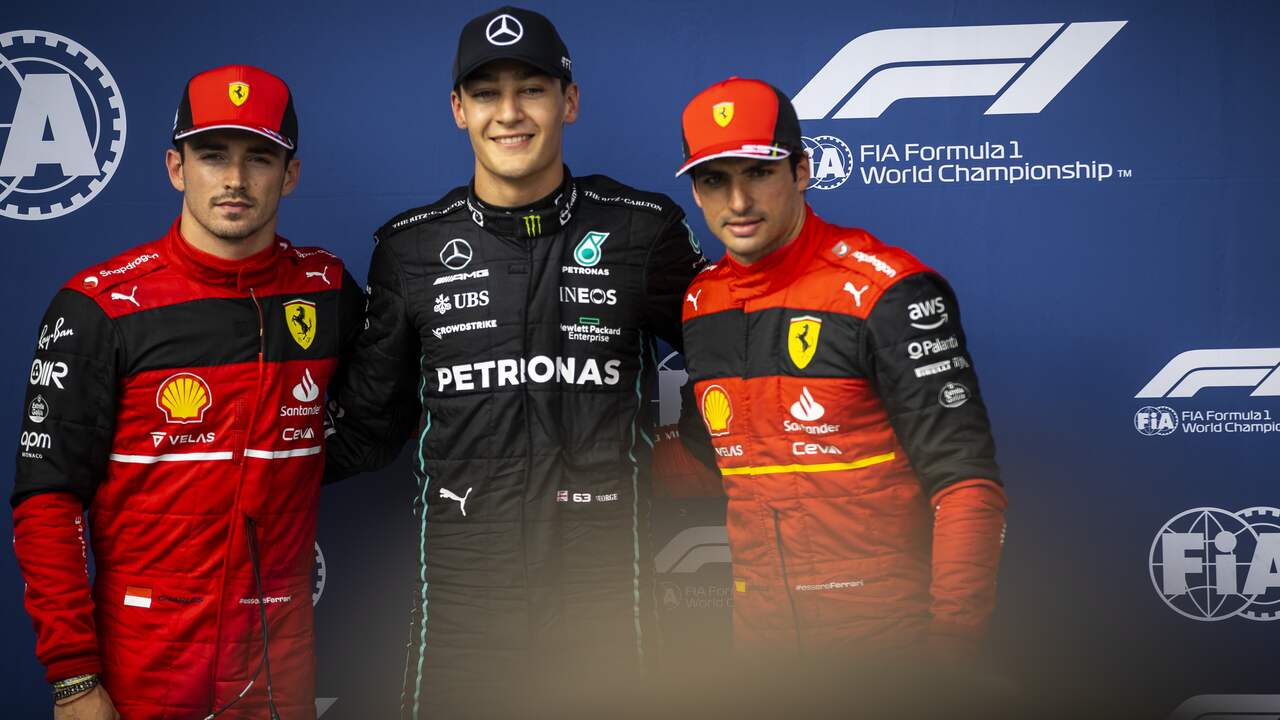 George Russell prevented a full front row starting line for Ferrari.
Photo: Getty Images
Sainz's speed in France was no fluke
Sainz was disappointed a week ago in France, because he finally got along so well with the Ferrari and still had to start from the back. That it was no fluke on Paul Ricard, the Spaniard showed in Hungary. But still: bummed that George Russell suddenly dived under the fastest time. That was also frustrating for Leclerc, but even more so for Sainz. Because it now starts on the wrong side of the grid.
There was a lot of cheering at Mercedes, especially because it was still a real bad day for the constructors champion on Friday. Team boss Toto Wolff wanted everyone to write down what he had eaten and drunk that day and what had been done to the car, in order to reproduce the success. Because that's the frustrating thing for Mercedes: they actually had no idea why the car suddenly had the pace.
Lewis Hamilton was also disappointed. His DRS failed to serve during the Brit's final attempt. Just on the day when the speed was finally in the car, Russell took pole. "A great day for the team," said Hamilton afterwards. A fixed statement from drivers who are disappointed that their teammate brings the success that the racing stable yearns for. And usually a mean statement moreover.
Russell knows deep down that Ferrari is faster
Who was happy then? Russell of course, although deep down he probably knows that the Ferraris are normally superior on Sunday. But still, that first pole is in the pocket. Expectations that are too high are not appropriate at Mercedes this year.
Esteban Ocon was happy with his fifth place, ahead of Alpine team-mate Fernando Alonso. He was disappointed, however, because he also started on the wrong side of the grid in sixth. The Spaniard, who still fabulously showed his car control in the wet morning practice, also felt that he "should have qualified a little further forward".
Lando Norris was of course happy with his fourth place, but he was also a bit disappointed. Firstly, the McLaren driver is also on the wrong side of the grid. He also thought it was a pity – with a wink of course – that Russell had diverted attention from his good qualification.
Max Verstappen is already disappointed after qualifying.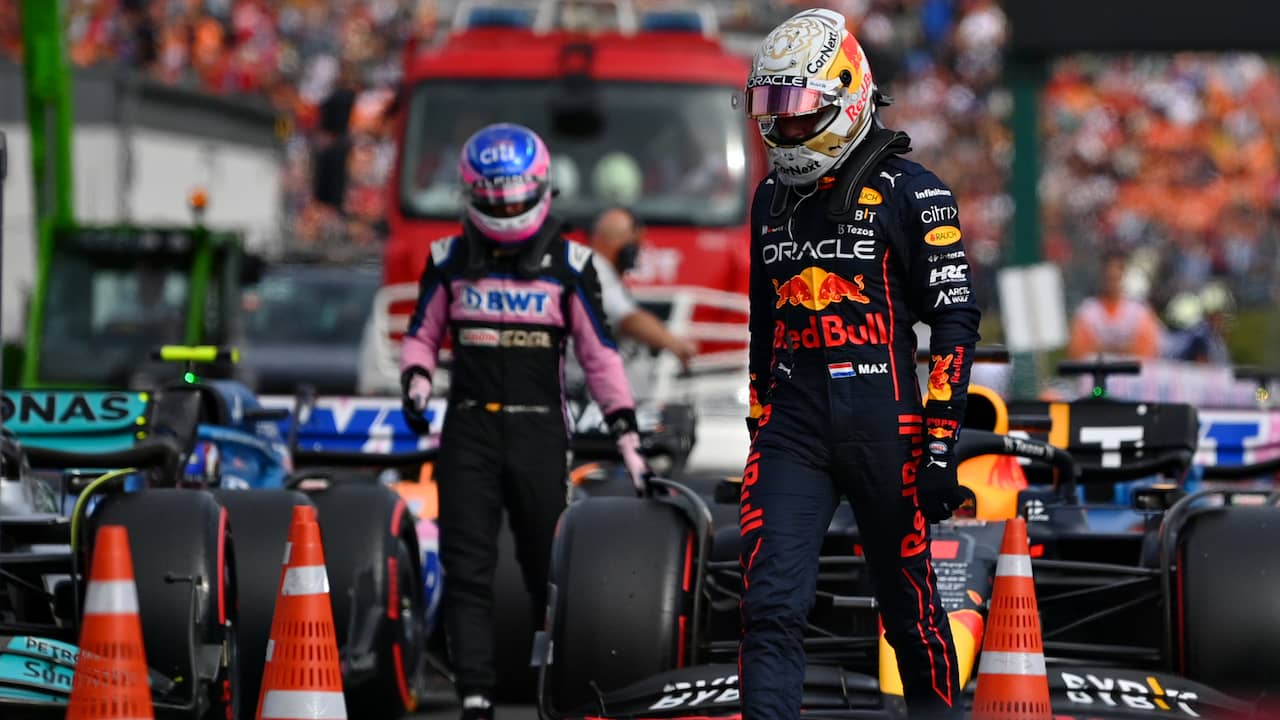 Max Verstappen is already disappointed after qualifying.
Photo: Getty Images
Verstappen needs 'Bottas-like' chaos
Norris did point out the factor Verstappen fans should hope for. He referred again delicately to the bowling action of Valtteri Bottas, last year at the start in Hungary. The Finn himself was the victim of this, as were a whole series of other drivers, including Norris and Verstappen.
Bottas himself starts in eighth, so he is again able to turn things around. Now, of course, he doesn't have to do it again himself, but Verstappen can certainly use the chaos he caused last year. A safety car here, a red flag there. Overtaking is always difficult in Hungary, but strategically Red Bull remains the sharpest knife in the drawer. When Verstappen gets the chaos he needs, he cuts back to the front like a hot knife through butter.
The Hungarian Grand Prix starts on Sunday at 3 p.m.
---