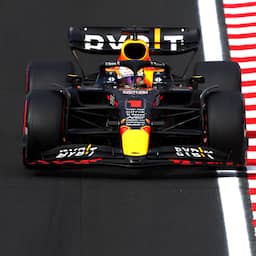 Due to problems with Max Verstappen's Red Bull, the World Cup leader will start tenth in the Hungarian Grand Prix on Sunday. George Russell starts the race from pole position, the career first for the British Mercedes driver
Verstappen complained of problems with his engine as he drove out of the pits for his last attempt in qualifying. Despite instructions about the on-board radio to let the Limburger press all kinds of buttons, the team was unable to solve this.
The Dutchman's first attempt also went wrong, after he made a mistake in the first sector. In the first two parts of qualifying things went well for Verstappen. With his times he could compete with the Ferraris and certainly the Mercedes.
In the final seconds Russell snatched pole from Carlos Sainz, who had the fastest time with his Ferrari. The Spaniard will start second on Sunday, ahead of his teammate Charles Leclerc. Lando Norris starts in the McLaren from fourth place.
Verstappen starts close to his teammate Sergio Pérez. The Mexican did not make it to the final part of qualifying and starts eleventh. It is therefore the worst qualifying of the season for Red Bull.
Sebastian Vettel had a difficult Saturday. The four-time world champion, who announced his retirement at the end of the season on Thursday, crashed in the last free practice. With help from Vettel himself, the Aston Martin mechanics were able to repair just in time for qualifying, but he did not get past eighteenth.
The Hungarian Grand Prix starts on Sunday at 3 p.m.
---