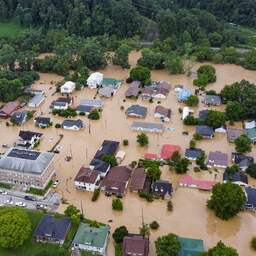 At least 19 people have died as a result of ongoing flooding in the US state of Kentucky. Authorities speak of the worst disaster in decades.
Recent heavy rainfall has caused many rivers in the eastern state to overflow their banks. As a result, many roads are impassable. Hundreds of houses and shops have been flooded. In some places, entire villages are under water. Thousands of people are without electricity.
Among the dead so far confirmed are six children, including a one-year-old baby. Governor Andy Beshear expects the death toll to rise in the coming days. He called the flooding "the worst I've ever seen".
"Many people are still missing. We are doing our best to find them, but it is being made very difficult for us. Even rescuers who have been doing this for over twenty years have told me that they have never had such a high water level experienced," the governor said at a news conference.
President Joe Biden declared the floods a national disaster on Friday. Federal emergency services are therefore going to help local rescuers to rescue stranded people and search for missing people.
Kentucky also had to deal with extreme weather at the end of last year. In December, more than 70 people died as a result of the most severe tornadoes the state has ever experienced. According to scientists, the more extreme weather is the result of climate change.
---