Marianne Vos is full of praise for her teammates from Jumbo-Visma after her second stage win in the Tour de France Femmes. The Brabant rider convincingly sprinted to victory in the sixth stage on Friday.
"The team has done everything it can to get me in a good position. Very nice that it works", the 35-year-old Vos exulted at the NOS .
The Dutchman was in the bunch sprint of a thinned peloton in a seat when Ellen van Dijk took off. She then took on the sprint, leaving the competition almost a bike length behind.
Earlier Vos already won the second stage in the Tour, as a result of which she also took the yellow jersey. "We wanted to go for another stage win, but of course we didn't get it as a gift. We fought very hard."
"In the final the pace was so high that it was difficult to make the difference. After that it was positioning for the sprint," said Vos. "I didn't feel any wind until the last 200 meters today. All credit to the team, all week and again today."
Marianne Vos left the competition far behind in the bunch sprint.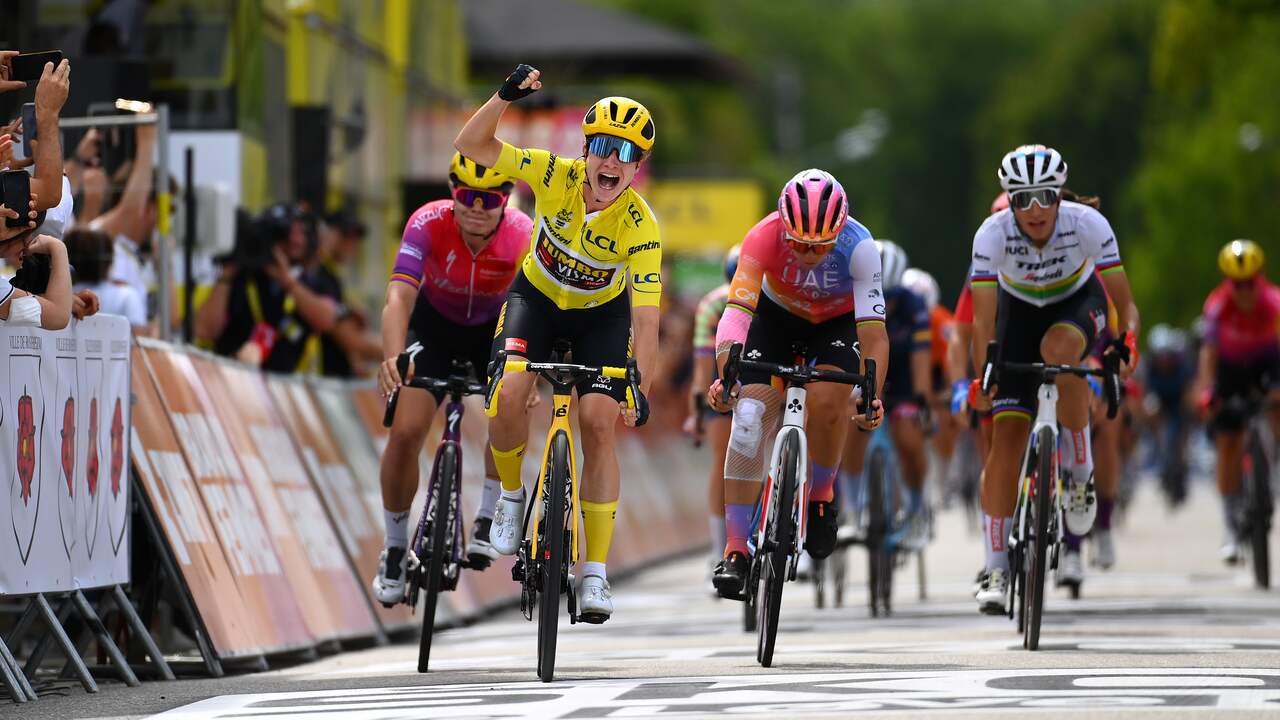 Marianne Vos left the competition far behind in the bunch sprint.
Photo: Getty Images
Vos is in the lead in points classification
Thanks to her stage victory, Vos takes the lead even more firmly in the battle for the green jersey. She is now 76 points ahead of her compatriot Lorena Wiebes in the points classification, who was unable to sprint in the sixth stage due to a crash.
"I will be in yellow for another day and more firmly in green. Great results and a beautiful day," said Vos. In the general classification, she is now half a minute ahead of Italy's Silvia Persico and Poland's Katarzyna Niewiadoma.
The Tour de France Femmes is ready for a tough ride through the Vosges on Saturday. After 126.7 kilometers the finish is in Le Markstein. The executioner in the final is the ascent of the Grand Ballon (13.5 kilometers with an average increase of 6.7 percent). On Sunday, the climbers will again be up for the final stage, when the finish is at La Super Planche des Belles Filles.
---