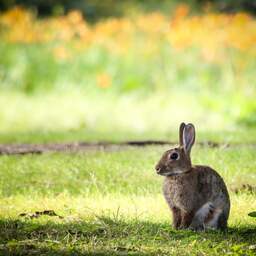 Hunters are angry and go to court after it was finally decided on Thursday that rabbits and hares may not be hunted in the province of Utrecht next season.
Minister Christianne van der Wal for Nature and Nitrogen has instituted the ban because of the declining population. The Royal Dutch Hunters Association (KNVJ) reacts angrily to this decision.
The minister's decision was partly based on a study by the knowledge institute Wageningen Environmental Research (WEnR) into the conservation of hares and rabbits. 'The WEnR report shows that the rabbit and hare are not in a favorable conservation status nationwide,' the minister said.
Distorted picture
KNVJ director Willem Schimmelpenninck van der Oije does not agree at all. 'The minister's decision is based on very limited and incorrect data. These data give a distorted picture and do not correspond with reality', he writes. 'In addition, the minister himself states that hunting is not an important pressure factor. This means that the minister's decision is not only unlawful, but also very unnecessary.'
The hunting season opens every year in August and closes in January. That is why the hunters' association has decided to initiate summary proceedings against the Dutch state. "With this we hope that the minister's decision will be suspended." In addition, the KNVJ conducts proceedings on the merits. 'In the proceedings on the merits, a judge will assess whether the ministerial regulation is unlawful.'
The hunting ban on rabbits applies throughout the Netherlands. The situation is different for hares, they are only not allowed to be hunted in Utrecht, Groningen and Limburg.
---