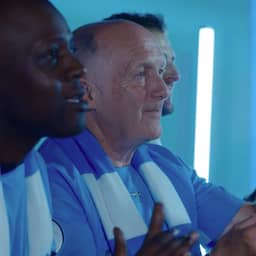 A number of supporters of the British football club Manchester City can go to the stadium next season with a special sports scarf. The Connected Scarf has sensors to measure how fans react to matches, writes the club.
Inside the scarf is an EmotiBit sensor that rests against the neck and can take various physical measurements. For example, it registers the wearer's heart rate and body temperature. The so-called electrodermal response is also recorded, which measures emotional arousal.
The Connected Scarf was made in collaboration with technology company Cisco. The scarf measures highs and lows that fans experience during the match. During a trial, six people were already invited whose physical reactions were recorded during the ninety minutes of playing time. It is not known how many supporters will be able to use such a scarf.
Astley Marusak of Cisco says the sensor in the scarf could help understand how football fans experience a game. "We measure not only how a game affects supporters emotionally, but also physically."
It is not clear what exactly Manchester City and Cisco intend to do with the collected data.
---