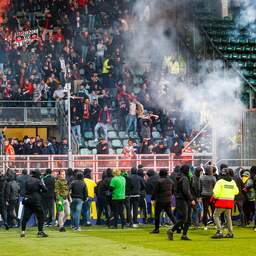 The police have arrested fifteen people in recent days for their participation in the riots during the ADO Den Haag-Excelsior match at the end of May. A total of 23 suspects have now been arrested, police said.
The people arrested in recent days are between the ages of sixteen and fifty. They all come from The Hague and the surrounding area. It is not yet known exactly what they are suspected of.
Eight suspects have already been arrested. The first of them were recently convicted. Four men were jailed for months for their involvement.
Eight police officers were injured in the riots. Eighty officers said they had experienced significant violence.
ADO lost promotion to the Eredivisie in the match. First, the residents of The Hague gave up a 3-0 lead in the last fifteen minutes, and then left the win to Excelsior after penalties. The match had been stopped several times due to irregularities.
Inside and outside stadium disturbances
After the final whistle, angry fans of the home team stormed the field. Firecrackers and chairs were thrown into the section with away supporters, among other things. There were also disturbances outside the stadium. Hooligans of ADO sought a confrontation with the accompanying fans of Excelsior and the Mobile Unit (ME).
The club from The Hague apologized a day after the riots and called the event "too embarrassing for words". An investigation into the disturbances concluded that security in and around the stadium is below average.
---