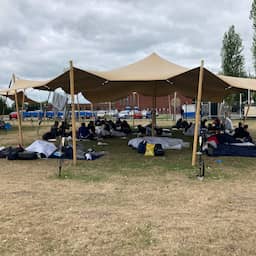 Veenendaal will temporarily receive 70 refugees to relieve the burden on the application center in Ter Apel. The refugees will be accommodated in the former BelCompany head office on Wageningselaan.
Veenendaal is responding to the government's call to provide temporary shelter places. The crisis emergency shelter in Ter Apel has been struggling for weeks with too many refugees to accommodate them properly. In the Utrecht security region, 225 refugees are currently being temporarily accommodated in Utrecht, Amersfoort and Eemnes.
However, those three spots are only available until the beginning of August. Reason for Veenendaal to receive 70 refugees from August. The shelter is intended for refugees for whom there is currently no place in existing reception centers. Veenendaal is now working to make the building suitable for shelter. It concerns a wing in the vacant office building. The office building should be ready to receive people at the beginning of August.
The emergency shelter is for a short period and will last until October 1 of this year, the municipality reports. Mayor Gert-Jan Kats: "Everyone probably knows the images of the situation at the application center for refugees in Ter Apel. An untenable situation. The government is therefore urgently calling on municipalities and security regions to create additional emergency shelters."
Kats: "That's why we take our responsibility in Veenendaal and offer these people a temporary place in the former BelCompany head office on Wageningselaan." The reception of the refugees is done in collaboration with the Utrecht Security Region, the (COA) and other social parties, according to the mayor.
The mayor wants to prevent asylum-seekers from having to be moved to a new location in the region after a few days in, for example, a sports hall. The 2015 experience – when Veenendaal accommodated Syrian refugees in a sports hall – learns that this is a major burden for both the asylum seekers and the environment.
'The council has chosen to provide shelter with sufficient privacy for a somewhat longer but defined period until October 1,' B and W report in a letter to the council.
The exact date that the refugees will arrive is not yet known. First things like health care, hygiene, Wi-Fi, interpreting, a good place to sleep, furnishing, sanitation, food supply and safety must be arranged. After that, the municipality wants to arrange forms of daytime activities as soon as possible.
The government has indicated that these costs will be reimbursed by them.
---