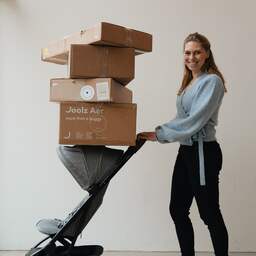 Which entrepreneur does not want to come up with a solution or product that no one had thought of before? In this series, entrepreneurs talk about the gap in the market they discovered and their way there. This time: is there a little one on the way, but don't you want to buy all the baby stuff new? Julie came up with a platform where you can rent everything you need.
What: Tiny Library, a platform where you can rent baby equipment for your newborn child Creator: Julie Munneke Ever since: 2019
How did you come up with the idea?
"When I had my first child, I discovered that you need a lot of stuff that you use for a relatively short period of time. I didn't want to buy everything new and was looking for a flexible way of getting baby stuff into the house. Not everyone has someone in his or her own right. or her environment from whom you can take things over. That's when I came up with the idea for a platform where you can rent baby equipment."
Did you get started right away?
"I still had a busy job, in the finance department of Ahold. First I built up a piggy bank so that I would have enough money to start a company. I also took a sabbatical to further develop the idea. Then I had the confidence that it would really work out, I went for it."
"It felt a bit like cutting the umbilical cord. I had worked for the same employer for ten years."
Wasn't that exciting?
"It felt a bit like cutting the umbilical cord. I had worked for the same employer for ten years. You always link your identity to your job and I had a good salary. It is difficult to say goodbye to that. arranged it at home so that we were not dependent on my salary to pay all the expenses."
"In the search for investors, I participated in the Dragons' Den program. The investors there were enthusiastic, but in the end the deal fell through. Financially, the participation didn't bring me much, but it helped me to pitch sharp. And I've made some contacts. I now have a number of great investors and now I can carefully pay myself some salary."
What do you like most about working on this venture?
"I'm working on setting up something that will benefit the world. Making an impact is something I missed in my work. When you no longer need our rented products, we'll come pick them up or send them back. Baby things don't lie like that dust in the attic or you don't have to look for storage space. We clean the products and repair them where necessary, this way they last longer. The world is a bit better because less baby products have to be made."
How have the first three years of your business been?
"I have often had the idea that I am swimming against the current. You give a lot, but you get nothing in return for a long time. You have to find energy to continue. It is very nice that I now have a solid foundation and a very nice team, but in the beginning it is a lot of searching and learning to deal with setbacks."
"I've taught myself to go back to why I'm actually doing this every time."
"It was particularly difficult in the logistics area. We were looking for a party that could process the returns for us. But specific knowledge is required for cleaning and refurbishing baby equipment. Many companies did not have this. Now we are working with a party that already specializes in was in cleaning returned prams, which is going very well."
What lessons has entrepreneurship taught you?
"Among other things, that you have to rely on your own vision. I sometimes lost that confidence, but I have taught myself to go back to why I actually do this every time. This way you get much more energy for yourself and you are less depending on the successes you achieve."
"I learned from a business perspective that you have to have enough customers first. You have to know if something works before you continue. But I also learned that some things just take time. I am very restless and want everything to work tomorrow. But you must have enough rest and confidence in a good outcome."
We do not have permission for the necessary cookies. Please accept the cookies to view this content.
---