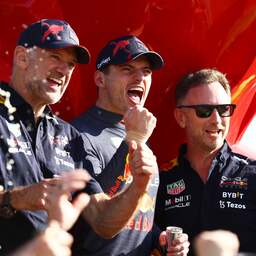 Christian Horner is overjoyed by Max Verstappen's important battle at the French Grand Prix. The team boss of Red Bull Racing saw the Dutchman win the race on Sunday and competitor Charles Leclerc drop out.
The result at the Paul Ricard circuit means that Verstappen now has a 63-point lead over his title competitor from Ferrari in the World Cup standings. That dominance surprises Horner.
"Eight wins, two sprint wins and such a big lead in the championship. Did you tell me before Christmas that we could achieve that with the biggest regulatory change in forty years and with the energy we put into last year's championship, then that would have surpassed my wildest dreams," Horner said Motorsport.com.
According to the 48-year-old Briton, the dominance says a lot about Red Bull. "It really shows the determination, dedication and hard work behind the scenes at the factory."
"We see a very competitive Ferrari this year and we see Mercedes building momentum. But when you consider that as the last team we fully focused on this year, we have done a phenomenal job."
Horner expected more tire wear
Prior to the race in France, Red Bull was hesitating between one or two pit stops for Verstappen. Horner is happy that the right strategic choice was made during the game.
"Honestly, the tire wear was less than we expected before the race. Before the race we were leaning towards two stops, but over the course of the race we were moving closer to one stop. On lap 16 we pulled the trigger because we had a saw a bit of free track where we could get Max in."
"Half a lap later he was in position on the track and from then on it was a matter of running in the tires properly. Two laps after Charles crashed and everyone got a free pit stop under that safety car. We were lucky to have just enough lead on both Mercedes."
The next Formula 1 race is scheduled in Hungary next weekend, after which the summer break is. Nine more Grands Prix will follow from the end of August.
---