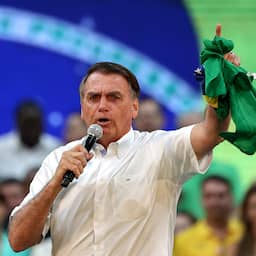 Jair Bolsonaro has been officially named the right-wing Liberal Party (PL) candidate for Brazil's presidential election in early October. Bolsonaro has been president of Brazil since January 1, 2019, but has lost a lot of popularity during his first term.
In Brazil, a candidate for the presidency cannot run without the support of a major party. Bolsonaro was elected in 2018 as a member of the right-wing Partido Social Liberal. He left that party in 2019 to start his own party.
Because it never got off the ground, the 67-year-old head of state became a member of the PL at the end of last year. General and former defense minister Walter Souza Braga Netto will be a candidate for the vice-presidency on behalf of the PL.
The right-wing populist Bolsonaro has a formidable opponent in the election in the left-wing ex-president Luiz Inácio da Silva, better known as Lula. He was nominated on Thursday in São Paulo as the candidate on behalf of the left-wing Workers' Party (PT).
Lula, now 76, was president of Brazil from 2003 to 2010. In 2018, he was convicted of corruption and spent a year and a half in jail. He was released by order of the judge after the charges against him were dismissed.
Despite his time in prison, Lula is well ahead in the polls. Bolsonaro has lost a lot of support from Brazilian voters in recent years due to the disastrous way he handled the corona crisis. He hopes to turn the tide by promising more social spending.
---