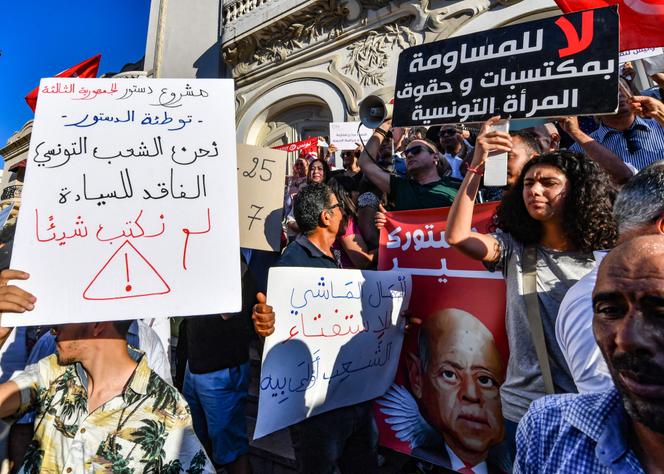 Demonstrators protest, Friday July 22 in Tunis, against President Kaïs Saïed and the new Constitution which must be submitted to a referendum on July 25. FETHI BELAID / AFP
For a very long time, no one really took him seriously. His critics held him to be at best a gentle dreamer, a gentle idealist, at worst a dangerous lunatic. In both cases, we bet on its inevitable normalization in contact with realities, the necessary political compromise. But Kaïs Saïed is very serious and he will go through with his plan to rebuild Tunisia. If one certainty is needed at a time when its new Constitution is submitted to a popular referendum on Monday, July 25, it is this one: the Head of State, elected in 2019 by a vote " antisystem" before establishing an exceptional regime in July 2021 granting it full powers, intends to assert itself as the builder of a new era.
He always said and wrote it without us paying too much attention to it. "Humanity has entered a new stage in its history", he had prophesied during the 2019 presidential campaign. He himself sees himself as the operator in Tunisia of this "new stage", where the sovereign people will again become "actor" of his destiny thanks to "new legal instruments" "liberating" him from "classic thoughts", in the forefront of which are "representative democracy" in "bankruptcy" and political parties "dying".
His political thought crystallized in the effervescence of the rallies in the Place de la Kasbah
The solution, according to him, is in a "democratic construction from below" reversing the traditional pyramid of powers. The model owes a lot to its proximity, in the aftermath of the 2011 revolution, with certain Marxist militants, in particular Ridha Chiheb Mekki – alias Ridha "Lenin" – and the academic Sonia Charbti.
Because his political thought crystallized at that time, in the excitement of the rallies in the Place de la Kasbah, the seat of government in Tunis, where thousands of demonstrators arriving from the hinterland had mobilized against attempts to "confiscate" the revolution by an old regime which had not frankly abdicated at the time. Since then, Kaïs Saïed, a professor of constitutional law, has matured his project away from an academic elite who have always looked down on him and against the liberal school of thought that nourished the post-2011 parliamentary experience. "He had the merit of reflecting with others on a political model endogenous to Tunisia and not imported from Western democracies," explains Mohamed Ben Henda, a left-wing activist with Arab nationalist sensitivities.
You have 76.45% of this article left to read. The following is for subscribers only.
---