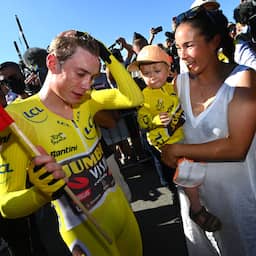 Jonas Vingegaard is proud and relieved that he was able to unofficially secure the overall victory in the Tour de France on Saturday. The Jumbo-Visma leader still took into account the scenario from two years ago, when Primoz Roglic was ridden out of the yellow leader's jersey by Tadej Pogacar.
"This means everything to me. It is really unbelievable and difficult to put into words", Vingegaard exulted after the penultimate stage, an individual time trial over more than 40 kilometers. "It is the biggest victory in cycling. The fact that my two girls (his wife Trine and his daughter Frida, ed.) are with me at the finish means even more to me."
The 25-year-old Vingegaard finished second behind his teammate Wout van Aert in the time trial. As a result, the Dane now has a lead of 3 minutes and 34 seconds on number two Pogacar in the general classification.
In theory, Vingegaard can still miss the overall victory, but normally nothing changes in the general classification on the final day of the Tour. Then the traditionally flat ride to the Champs-Élysées in Paris is on the program.
'I'm relieved that it worked'
Vingegaard was already second in the Tour last year. "Since then, I believe I can win this race," he said. "I'm relieved that it worked. I'm so happy and proud. We didn't want the same thing to happen as two years ago. We've always had that in mind."
Vingegaard was referring to his teammate Roglic missing out on the overall victory two years ago. The Slovenian then started a time trial with a minute ahead of Pogacar and was surprised by his compatriot, who was almost two minutes faster.
Vingegaard did not miss his third stage win in this Tour, but also awarded Van Aert the victory. "That shows how close we are within the team. That is something special in this team: everyone is so happy for each other. I am very happy for Wout that he won today. These guys are really my friends, or rather: brothers."
"Looks like we can go party tonight," Vingegaard said. "It is special for the entire Jumbo-Visma team and also for Denmark. I don't read anything in the media, so I don't know how crazy they have gone, but I do have a suspicion."
We do not have permission for the necessary cookies. Please accept the cookies to view this content.
You can find all the latest news and backgrounds in our Tour de France file
---