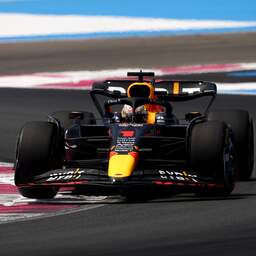 Max Verstappen set the best time on Saturday in final practice for the French Grand Prix. The World Cup leader was faster on the Circuit Paul Circard than the Ferrari drivers Carlos Sainz and Charles Leclerc.
Verstappen first drove around for a long time on the medium tires, with which he had already set a good time. Sainz went under on soft, but Leclerc didn't. The Monegask messed up his second lap on the red tires, and the Ferrari driver ran out of rubber in a third attempt.
When Verstappen also entered the track on soft tires, the Limburger was immediately fast. He clocked a 1.32.272, which was three tenths faster than Sainz and six tenths faster than Leclerc.
Sainz already knows that he has to start at the back on Sunday. As a result of his engine problems in Austria, the Spaniard has been given a completely new power source in the back of his Ferrari.
The fourth fastest time was set by Lewis Hamilton in the Mercedes. The Briton had to give in to Verstappen for almost a second. Sergio Pérez clocked the fifth time in the second Red Bull. The Mexican was more than a second slower than his teammate, in a difficult weekend so far.
Leclerc spins on the hard tires
Just like the two free practice sessions on Friday, there were few incidents. During a long run by Leclerc on the hard tyre, the Ferrari driver spun briefly. Furthermore, almost without exception, everyone stayed on the hot French asphalt.
It was a little less hot in Le Castellet during the third training session due to a wafer-thin cloud cover. When the pit lane opened, the shower temperature was 28 degrees Celsius, and the asphalt temperature was 49 degrees. On Friday, both temperatures were a few degrees higher.
Log in for more free articles
---