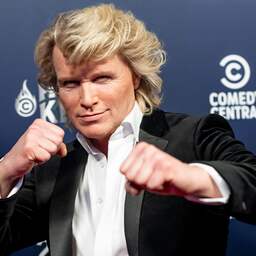 World famous for his dazzling shows and hair, Hans Klok will be visiting Rotterdam in the coming weeks. The illusionist brings the circus to the city with his show Hans Klok and Friends. From July 22 to August 7, the shows can be seen in an impressive theater tent at the ss Rotterdam.
You performed in Las Vegas, among other places, what is it like to be in Manhattan on the Maas now?
"That's fantastic. I have a lot of memories of Rotterdam. My first performance was in the old Luxor Theater, more than thirty years ago. Even after that I performed a lot in the city. So it evokes something, I have I'm really looking forward to it. Besides, I'm in love with the circus."
What are the shows like?
"A lot can be seen from my shows in Las Vegas. I open myself, together with my assistant. After that, tightrope walkers and the wheel of death pass by. The acrobatic Trio Three G from Ukraine can also be seen. Because of the war in their country they were stranded and could not return to their home country I am happy that they are working this way and can earn some money In between these great artists I will of course be present myself It is about fifty-fifty ."
It's not nothing, eighteen shows of ninety minutes each. What makes it so fun for you?
"It's based on the same program, but it's always new. That's what makes it so exciting. The shows have a high festival content. There are food trucks, barbecues and many people linger after the show. I live in a caravan myself , so I like that little world. It never becomes routine: you really have to keep up. It's not that I step on stage like that. It's really a craft. You have to be versatile: the tricks have to be right, but you have to also be good with music and photography. The best thing about my profession is that you have to know everything about everything. In addition, not only is the show itself important, but I also have a lot of work to do on my appearance. Sports, training, but also my her of course."
Is the wind machine there again?
"Haha. It's there, of course, especially on hot days. Otherwise people won't go into the tent at all."
---