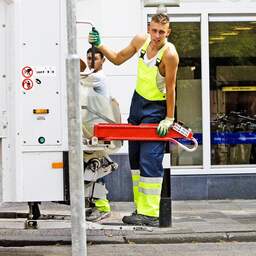 The electric garbage trucks, which the municipality of The Hague is purchasing, provide cleaner air in the city, but are also considerably more expensive than the usual diesel trucks. At half a million euros each, the purchase value is about 300,000 euros higher.
The new trucks will be used as a test drive in The Hague, because much is still unknown about them. For example, the municipality does not know how far the garbage truck can travel on one battery charge, and it must also be examined how much waste it can take with it. That should all become apparent from the pilot. The intention is that the car can drive for a whole day, or else that it can be recharged enough in a short time.
Collection service Haagse Milieu Services (HMS) uses the experiences to see what consequences this has for planning and capacity. The company will build charging infrastructure in anticipation of the expected further electrification of the vehicle fleet. The fleet of HMS has about eighty cars.
Exchanged experiences
For the trial, experiences will also be exchanged with other municipalities and cleaning services. A spokesperson for the municipality of The Hague says: 'What has become clear is that the effect on planning and capacity is different for every municipality and every company.'
---