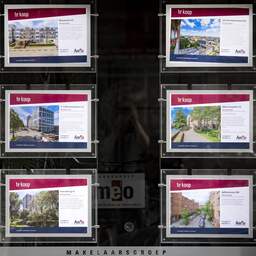 Owner-occupied homes were considerably more expensive in June than a year earlier, but house prices rose less rapidly last month than earlier in 2022. This is shown on Friday from figures from Statistics Netherlands and the Land Registry, which have been keeping the statistics since 1995.
In the month of June, prices rose by almost 17 percent, while in May it was still an increase of almost 19 percent. On average, the increase in the past three months was 18 percent. In the previous quarter, a house became on average 20 percent more expensive.
Although the price increase of owner-occupied homes is leveling off, it is too early to speak of a possible cooling of the housing market. Prices are still rising sharply compared to a year earlier.
"House prices have risen less rapidly since January, but that does not mean that it is suddenly easier to buy a house," CBS chief economist Peter Hein van Mulligen told NU.nl earlier.
In June 2013, the prices of owner-occupied homes reached a low point. Since then there has been an upward trend. Compared to the trough of nine years ago, prices had almost doubled in May 2022.
What is the housing shortage in your area?
Source: Atlas Research© LocalFocus
---