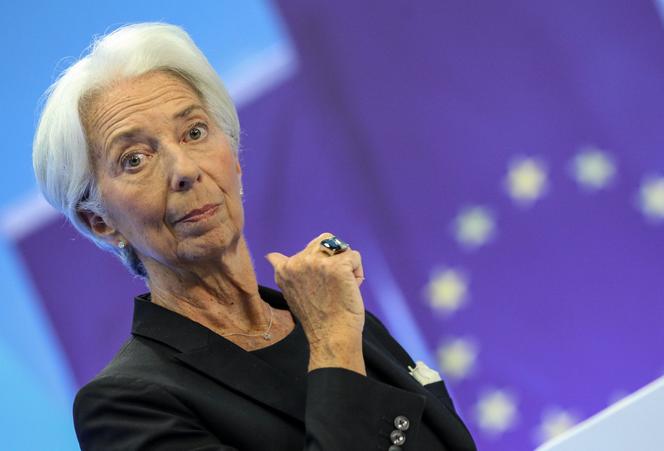 The President of the European Central Bank, Christine Lagarde, during a press conference in Frankfurt, July 21, 2022. DANIEL ROLAND / AFP
Can the European Central Bank (ECB) fight against inflation, while flying to the aid of Rome? While the resignation of the Italian Prime Minister, Mario Draghi, risks plunging the peninsula – and the euro zone – into a new crisis, the question was, Thursday, July 21, on all the lips of European observers. At the end of the meeting of its governors, the Frankfurt institute partly responded to this by unveiling two important decisions. "It's a historic day," summed up its president, Christine Lagarde, during her press conference.
In fact, the ECB raised its key rates by 0.5 points – a stronger rise than expected and, above all, the first since 2011. Its main interest rate thus rose from 0% to 0.5% and its deposit rate, applied to certain cash that banks do not distribute as credit, from −0.5% to 0%. It thus ends the era of negative interest rates, which began in 2014 to revive prices and the European economy after the debt crisis of 2011-2012.
Read also: Article reserved for our subscribers The ECB intervenes urgently to calm tensions in the euro zone
The galloping inflation of the last few months, intensified by the war in Ukraine, the series of shortages and the surge in energy prices has brutally changed the situation. The price index thus peaked at 8.6% in June in the euro zone and "will remain at an undesirable high level for some time", acknowledged Christine Lagarde. This justifies the ECB raising its rates at a rate higher than the 0.25 point it announced in June. "She may think that the window of opportunity for future rate hikes will close quickly," said Carsten Brzeski, economist at ING.
Possible, because "the economic horizon is darkening", recognized the institution. "The euro zone is probably already in recession", even judges Ludovic Subran, chief economist of the Allianz group. It will therefore be more difficult to justify, in September and October, a sharp rise in rates likely to put a brake on growth that has already been undermined.
Limited communication
In order not to tie its hands in advance and keep room for manoeuvre, the ECB has decided not to communicate too far in advance on its future decisions – what is called forward guidance –, as it has been doing since several years. From now on, it will decide at each meeting, depending on the economic data available. It doesn't seem like much, but there too, it's a change of era. "It's not a bad thing, when nobody has the faintest idea of ​​what inflation will be in six months", commented on Twitter Frederik Ducrozet, head of economic research at Pictet WM, in the wake of the meeting.
You have 58.3% of this article left to read. The following is for subscribers only.
---