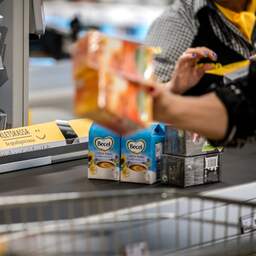 Supermarket chain Jumbo expects to break through the turnover limit of 10 billion euros for the first time this year, a target that was just short of achieved last year. In the past six months, the company from Veghel saw growth mainly at the restaurants of La Place after the disappearance of the corona measures.
"In the first weeks of 2022 we still had to deal with restrictive corona measures and then with the consequences of the situation in Ukraine," says general director Frits van Eerd.
"The challenges are increasing, while it does not appear that calm will return to the market in the coming months. Nevertheless, we are sticking to our goal of breaking through the turnover threshold of 10 billion euros this year."
Jumbo recorded a turnover of 5.46 billion euros, an increase of 1.6 percent compared to the same period last year. Jumbo's market share in the Netherlands is 22 percent, just like last year.
---