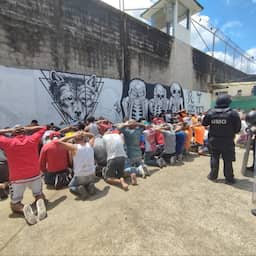 Thirteen inmates were killed in a prison in the Ecuadorian city of Santo Domingo on Monday, the prison agency SNAI reported. This is the latest incident in a series of deadly prison violence.
Conservative President Guillermo Lasso's government attributes prison violence to gang battles for control of territory and drug trafficking routes. Police and armed forces were in the process of regaining control of the penitentiary, the prison office said on Twitter.
"Unfortunately, the center's staff so far report that thirteen inmates are dead and two injured," the agency said, adding that the attorney general's office will conduct a final count. In May, violence in the same led to 43 deaths.
According to the Inter-American Commission on Human Rights, the Ecuadorian prison system has been neglected by the state. There is no coherent policy and the prisoners have to live in very bad conditions.
Riots in several prisons in Ecuador killed 316 inmates in 2021. Nearly 34,000 convicts live in prisons. This exceeds the maximum capacity by 12.5%.
---