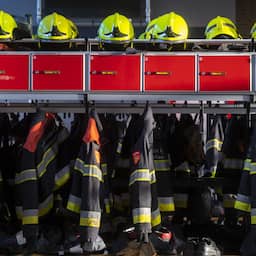 Thanks to rapid action by the fire brigade, the fire damage at a flat house on the IJssellaan in Arnhem was mainly limited to the living room on Tuesday evening. No one was injured.
The fire brigade was not yet able to say what the cause of the fire on the first floor of the fairly new apartment complex was. It is clear that little is left of the facade of the house on the lower floor.
The effects of the fire can be seen from the outside. The balconies are covered with thin cloths to protect the residents from prying eyes. Up to the fifth floor, the cloths were scorched or melted. The tropical heat has taken the flames to great heights.
The fire was brought under control about 20 minutes after the report. The affected residents were unharmed. The living room area at the rear in particular was burned. "We do not yet know what the cause of the fire was. An investigation has yet to be done," says the fire officer on duty.
The people who had to leave their homes in haste were able to return to the house around 7 p.m. Measurements by the fire brigade in the flat showed that there was no danger to health. Temporary accommodation had to be found for the residents of the affected apartment. The fire brigade has called in owner housing association Vivare for this.
---