Tropical temperatures are an additional challenge for motorcyclists. Because that safe and therefore warm motorcycle clothing is a must. And then the motorcyclist also sits on top of an engine block and exhaust that are already warm by themselves. How do you survive the heat on a motorcycle?
While motorists can turn the air conditioning a notch colder, motorcyclists have to be careful in this tropical heat. Even after sunset, the asphalt radiates heat for a long time. The only cooling you have comes from the driving wind. But yes, closed, protective clothing does not let much cool air through. As a result, the body heats up enormously. As a result, you not only lose moisture, but also your concentration in traffic. The possible consequences are obvious.
Dutch law does not impose any requirements on the clothing you wear on the motorcycle. An approved helmet is sufficient. With this warm weather it is therefore tempting to get on the motorcycle with a T-shirt and jeans. But if you love your body, you would do well to wear a protective motorcycle suit.
Fortunately, there are options for sufficiently cooled and safe on the road. First of all, there is the so-called blow-through clothing. This allows you to let the fresh air into your suit in a controlled way. Kelvin de Wit, product manager of motorcycle clothing specialist MKC Moto, explains: "At an outside temperature of 25 degrees and higher, it can be a relief to go on the road with summer clothing or blow-through clothing. Of course, this temperature limit can also be lower if you quickly get warm. As the name suggests, blow-through motorcycle clothing provides cooling. This is achieved by means of gauze, the so-called mesh, or perforated parts in the textile or leather."
"A cooling vest mimics sweating."
Jochem van Mill, owner webshop
During the past summers it turned out that beautiful summer weather can suddenly turn into hard rain. Is blow-through clothing still recommended in connection with raining in? De Wit: "These clothing itself is not waterproof on the ventilation openings. However, there are different levels and qualities of this type of clothing: the more advanced suits are often supplied with, for example, a removable waterproof liner (inner jacket)."
Breathable clothing comes in different styles
Now 'appearance' and 'motorcycling' are inextricably linked. And there are many different types of motorcycles. A chopper rider has a different clothing style than the rider of a sports bike. Is there a suit for sale for every kind of motorcyclist that allows you to ride comfortably at high temperatures?
"You see quite often that blow-through clothing in textiles has a neutral appearance," explains De Wit. "This ensures that it can be worn on a variety of motorcycle types without looking out of place on the motorcycle. It is also often lightweight. The more pronounced biker jackets are also available with perforated leather. However, it naturally carries heavier, which means less cooling than with the traditional blow-through motorcycle jacket." The leather jacket is often combined with Kevlar-reinforced motorcycle jeans. These pants have practically the same ventilation capacity as regular jeans.
Need extra cooling? Wear a special vest
As mentioned, the cooling effect of the blow-through clothing depends on the wind. If your driving speed is a bit lower, it can still get too hot under your suit. Then it is recommended to wear a cooling vest. "A cooling vest mimics sweating," explains Jochem van Mill of the specialist webshop Koelvest.nl. "You fill this vest with half a liter of cold tap water. Due to the heat and the wind, the water evaporates, which cools the environment. It can lower the temperature in the suit by up to 15 degrees. The effect is between 48 and 72 hours. If you choose a DryCoolVest, the evaporated water will not remain in the suit, so you will not come out soaking wet."
Air-conditioned helmet is the ultimate luxury
As a motorcyclist, you naturally want to keep your head cool, literally and figuratively. It is then tempting to wear an open helmet, so that the wind has free play on your face. That feels cool, but has the disadvantage that insects crush on your skin. It is therefore safer and more comfortable to buy a closed helmet with ventilation options.
It will be completely luxurious with the ACH-1 from Feher. This full-face helmet is equipped with a small air conditioner, which blows cool air through the helmet. The manufacturer claims that the temperature in the helmet decreases by 12 to 18 degrees. The ACH-1 can only be purchased online directly from the manufacturer and costs 400 euros.
The ACH-1 helmet from Feher has a built-in air conditioning.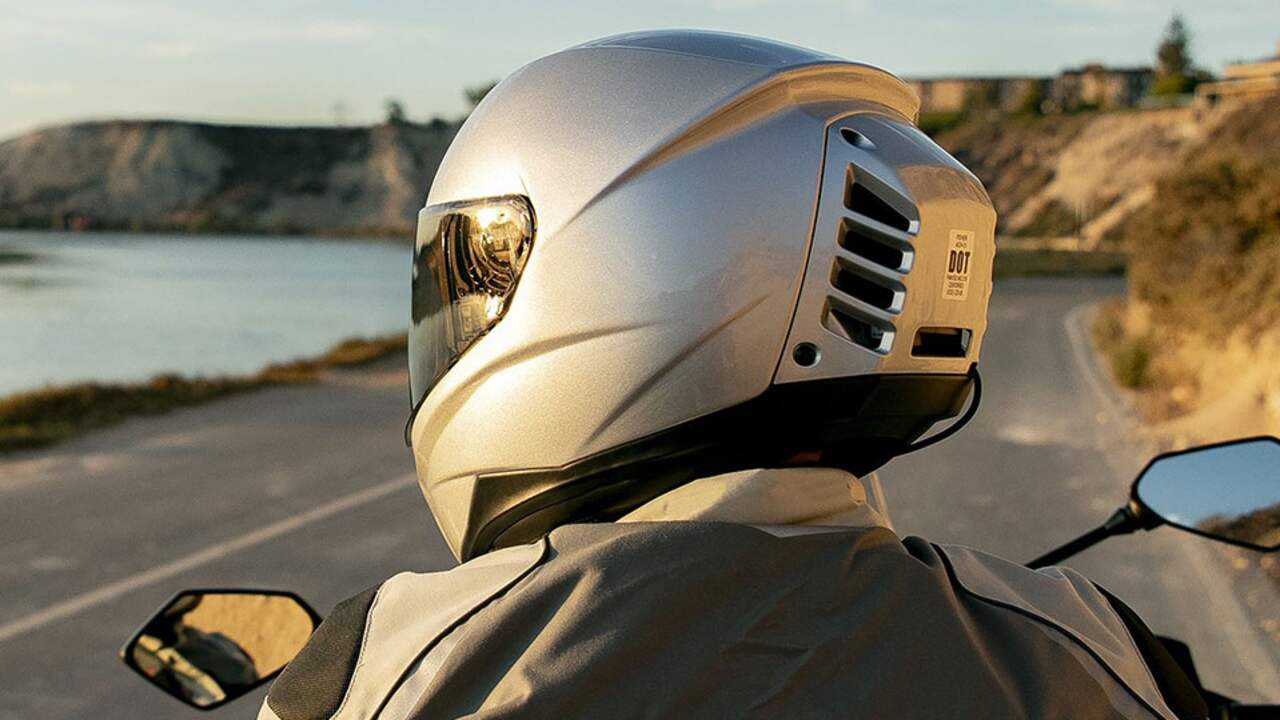 The ACH-1 helmet from Feher has a built-in air conditioning.
Photo: Feher
With these tips motorcyclists stay cool
If possible, remove the wind deflectors at the front of the engine, such as the windscreen and fairing. This way your body catches more wind. Avoid driving in the city or on other roads with many traffic lights. Standing still is disastrous for cooling. Wear ventilating gloves. This prevents sweaty hands. Lubricate unprotected parts of your body, such as your neck, well. Wear a wet T-shirt under your suit. This is a cheap – but less effective – alternative to a cooling vest. Keep the center zip of your suit closed, otherwise it won't protect you in the event of a fall.
We do not have permission for the necessary cookies. Please accept the cookies to view this content.
---