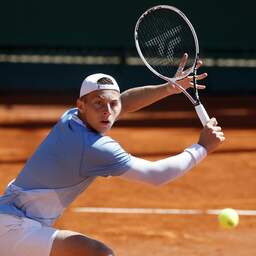 On Sunday, Tallon groenpoor won the challenger in Amersfoort for the second year in a row. The Dutch top favorite was too strong for Spaniard Roberto Carballés Baena in the final on clay.
The 26-year-old Greek track made the difference from the start against Carballés Baena, the number 81 in the world. The Dutchman immediately won the Spaniard's first service game and quickly ran out to win the set due to a break at 4-1. In the second company he again gave his opponent no chance: 6-2.
On the way to the final, the first placed Greek track already had few problems for its own audience. The number 47 in the world successively dealt with Javier Barranco Cosano (6-1 and 6-2), Zsombor Piros (6-3, 6-7 (2) and 6-3), Vitaliy Sachko (6-2 and 7 -6 (4)) and Ivan Gakhov (6-2, 3-6 and 6-3).
Last year, the Greek track also won the challenger in Amersfoort. He was then too strong for compatriot Botic van de Zandschulp in the final, who did not participate this time. Greek track won a total of eight challengers in 2021. This year he mainly plays tournaments on the ATP Tour, a level higher than the challengers.
The clay tournament in Amersfoort was his first appearance for Greek track since Wimbledon. The tennis player from Nieuw-Vennep reached the second round at the Grand Slam tournament in London at the end of last month, in which he had to recognize his superior in the Spanish top talent Carlos Alcaraz.
Greek track will participate in the ATP tournament in Hamburg next week, also on clay. He will face Norwegian talent Holger Rune in the first round. Van de Zandschulp plays his first tournament since Wimbledon in Hamburg.
---