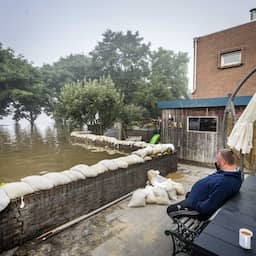 The 11.8 million euros collected via Giro 777 for the victims of the floods in Limburg a year ago has now been awarded in full or reserved for affected individuals and organizations, the National Disaster Fund reported on Saturday.
A week after the flood, the Disaster Fund decided that private individuals "who had really had the water over the floor" received 1,000 euros. This amount was later increased to 2,000 euros. At the beginning of September, the first group of those seriously affected received the money in the bank account. In total, this involved 5.2 million euros.
In March, the fund decided that civil society organizations could also apply for aid money for recovery projects. More than thirty organisations, such as associations and foundations in the fields of care, culture, sports and social work, for example, did this. According to the fund, these applications have largely been completed. Together they receive 3.6 million euros.
The remaining 3 million euros is for so-called distressing cases. It concerns people who have suffered greatly from the disaster and who are not (partly) reimbursed for their costs from insurance.
Of that 3 million euros, 1 million euros has now been paid out. According to the Disaster Fund, the allocation of the available amount is subject to some delay, because municipalities must assess which situations are distressing enough. This process continues until after the summer.
In short, the 11.8 million euros is divided into three groups:
5.2 million euros for the worst affected. 3.6 million euros for civil society organisations. 3 million euros for distressing cases.
Aid money is separate from other benefits
In July last year, the south of the Netherlands, in particular Limburg, was hit by severe flooding due to heavy rainfall. Rivers overflowed, flooding streets, houses and other buildings.
Immediately after the flood, the National Disaster Fund set up a special fund via Giro 777 for the victims of the flood. Victims could request assistance from the Disaster Fund until 1 June. The aid money is separate from the money paid out by insurance companies and from the compensations that the central government provides on the basis of the Disaster Compensation Act.
The National Disaster Fund says that all the donated money goes to the victims. "The very limited costs for some hired support staff have been charged to shareholders' equity," according to the fund.
---