Universal Pictures shares the trailer of She Said (2022) with Carey Mulligan and Zoe Kazan. The film is about the Harvey Weinstein case and how it was brought out despite all the contradictions.
The film follows New York Times reporters Megan Thowey and Jodi Kantor as they bring out one of the most important stories in a generation. A story that helped launch the #MeToo movement and shatter the decades of silence surrounding the topic of sexual assault in Hollywood.
Watch the trailer for She Said" here:
In addition to Mulligan and Kazan, the cast includes Tom Phelphrey, Samantha Morton, Andre Braugher, Patricia Clarkson and Elle Graham. The film is directed by Maria Schrader and written by Jodi Kantor, Rebecca Lenkiewicz and Megan Twhohey.
She Said runs from Nov 24 in the cinema. For a complete overview of all films currently showing in cinemas, please visit our Now in the cinema page.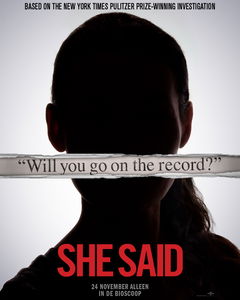 A film about the true story surrounding the Harvey Weinstein scandal. Journalists Megan Twohey and Jodi Kantor played a big part in revealing his wrongdoing this film is based on their book She Said:
Image: Still 'She Said' via YouTube
---