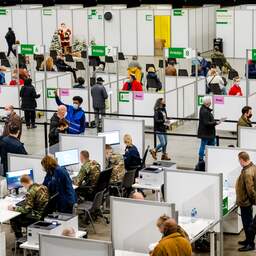 At the place where not so long ago gamblers spread their odds, the GGD is opening the newest location for testing and vaccination in Utrecht. With the former building of Holland Casino Utrecht, the Jaarbeurs disappears from view.
The new accommodation on the Overste den Oudenlaan close to the Jaarbeursplein will open on Monday. There is free entry and there are 12 test counters and 6 injection lines. The vaccination area has been set up as a waiting area: visitors take a seat on a chair and only get up again after their injection and the mandatory waiting time.
As of Monday, the GGD in Utrecht will have 26 small and five large locations, including the one that is still temporarily open in Nieuwegein. These will be temporarily partly closed or limited open next week due to the high temperatures.
Three large test locations and eight small test locations are available for testing for corona. "This means there is a good spread of testing and vaccination options in our region," says a spokesperson.
Whether the Jaarbeurs also comes into the picture if, for example, a major corona outbreak follows in the autumn? "In principle not. If necessary, we can extend the opening hours of the locations and thus increase the capacity." When the Jaarbeurs no longer reminds you of corona at all? "That is up to the Ministry of Health, Welfare and Sport. They commissioned the construction of the pavilions and are now also arranging the completion."
---