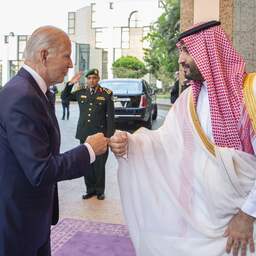 US President Joe Biden holds Saudi Crown Prince Mohammed Bin Salman personally responsible for the murder of journalist Jamal Khashoggi. Biden said Friday after meeting the Crown Prince and his father, King Salman Bin Abdulaziz.
Biden is in Saudi Arabia to strengthen ties with the country. The US president previously said he would not evade the violation of human rights in the country in the talks. He declined to say at the time whether he would discuss Khashoggi's death with the Saudis.
"I made it clear in the conversation that I personally hold the Crown Prince responsible for the murder of Khashoggi," Biden said at a press conference afterwards. "This topic is of critical importance to me and the United States."
Khashoggi, who wrote for The Washington Post, among others, was murdered in the Saudi consulate in Istanbul in early October 2018. According to American intelligence services, among others, Bin Salman personally ordered the murder, but the crown prince has always denied this.
Biden also expressed satisfaction with the conversation with the Saudi king and crown prince. He hopes it is a first step towards "further normalization" of ties between the US and Saudi Arabia. Both countries also discussed energy and oil.
Biden's visit is part of a larger journey through the Middle East. The US president said he did not want to leave a "vacuum for Russia and China to jump in" in the area.
---