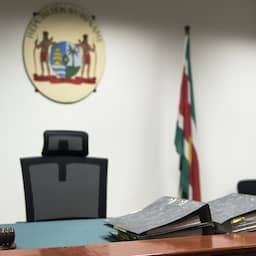 Jul 13, 2022 at 03:02
Surinamese journalist Jason Pinas has won the case against three bodyguards of Vice President Ronnie Brunswijk. The judge ruled on Tuesday that Pinas had done nothing wrong and that the bodyguards dealt with him unnecessarily hard when he came close to Brunswijk's car.
By: our news editors
More than six months ago, Pinas was dealt with harshly when, according to the security officers of Brunswijk, he tried to get into the vice president's car. While he was taking some pictures, the bodyguards also took his phone.
The judge sentenced the security guards to a three-month suspended prison sentence and three years' probation. Pinas was awarded compensation of 28,000 Surinamese dollars, a small 1250 euros.
On behalf of the judge, the bodyguards in the courtroom have apologized to Pinas, Pinas reports to the ANP.
Image: ANP
---