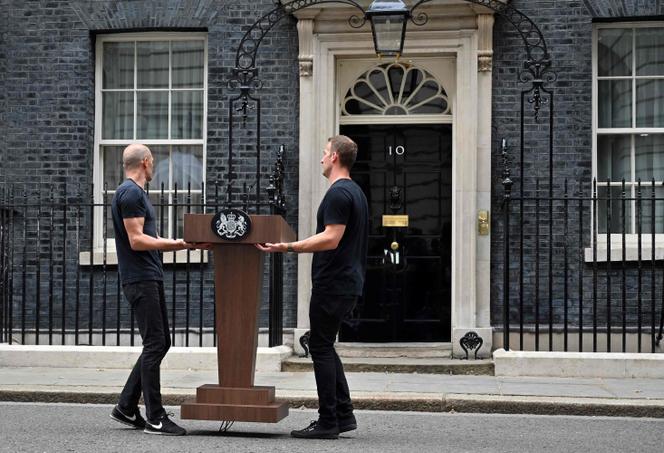 The entrance to 10 Downing Street, London, July 7, 2022. JUSTIN TALLIS / AFP
The race to replace Boris Johnson in Downing Street promises to be crowded, paved with unrealistic promises and oriented all the way to the right. Monday July 11, five days after the charismatic, but blundering and cynical leader was forced to resign by his own camp, already eleven candidates were rushing to take his place at the head of the British executive. The name of the lucky winner will be known on September 5, after an internal primary open to Conservative MPs only.
Among the suitors, well-known names, ministers preparing their candidacy for weeks such as Rishi Sunak, the former Chancellor of the Exchequer, and Sajid Javid, the former Minister of Health, whose resignations, on July 5, precipitated the downfall of Mr. Johnson. Or Liz Truss, the foreign minister, and Jeremy Hunt, a former health minister, who had already tried his luck during the internal campaign to replace Theresa May in mid-2019. Others line up with little chance of winning (Suella Braverman, Rehman Chishti), probably to push a specific agenda or secure a place in the future government. And on Monday night Home Secretary Priti Patel was also considering getting into the fight too.
Read also: Article reserved for our subscribers Boris Johnson: from resounding victory to chaotic fall, three years of turbulence
Worried that this plethora of suitors would slow down the process of appointing the future prime minister, the members of the 1922 Committee, an internal Conservative club responsible for setting the rules of the party, have agreed on a tight timetable and draconian conditions for the maintenance in the race.
Only candidates who will have obtained the support of at least twenty Conservative MPs by Tuesday evening will be able to line up. After three or four eliminatory votes with the college of 360 Tory deputies – the first round will take place on July 13 – only two names will have to remain on July 20, for the summer closure of Parliament. These last two candidates will then be decided by the 180,000 or so members of the Conservative Party and the identity of the future Prime Minister, known on 5 September.
Thatcherite one-upmanship
Rarely has an internal Tory primary presented such diversity: at least four women want to try their luck. And six of the eleven candidates on Monday are children of immigrants. The parents of Rishi Sunak and Suella Braverman are of Indian origin, those of Sajid Javid and Rehman Chishti of Pakistani origin; Nadhim Zahawi arrived in the UK as a child, fleeing Iraq with his family of Kurdish origin, Kemi Badenoch is of Nigerian origin.
You have 61.4% of this article left to read. The following is for subscribers only.
---