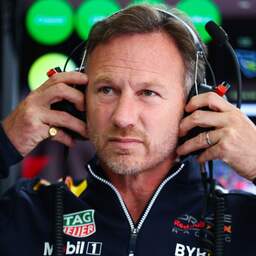 Christian Horner was surprised by the high tire wear on Max Verstappen during the Austrian Grand Prix on Sunday. The Red Bull team boss is content with second place due to the difficult circumstances.
"Congratulations are for Ferrari. They had the fastest car for most of the race. Max came back a bit, but our tire wear was too great. It is very difficult to participate," Horner said in conversation with Sunday. Sky Sports.
Partly due to the excessive tire wear, Verstappen had to leave the win to Charles Leclerc for the first time since April. The Ferrari driver had a margin of more than one and a half seconds on Verstappen at the finish.
"The wear during the race was worse than expected. It didn't come close to Saturday's wear," continued Horner. "Ferrari was significantly faster and that gave them a strategic advantage. All in all, we scored very important points with second place."
Horner explains why Pérez quit
Horner saw the early retirement of Sergio Pérez as a bigger problem. Pérez was knocked off the track on the first lap by George Russell. Although the Mexican made it to the pits, he was still held in.
"The damage to the car was too great, so he didn't have a chance to score points," said Horner. "That's why it was important to save the miles."
Due to the retirement of Pérez and the win of Leclerc, the two drivers switched places in the World Cup position. Leclerc is the new number two, 38 points behind leader Verstappen.
All the latest news and backgrounds can be found in our Formula 1 file
---