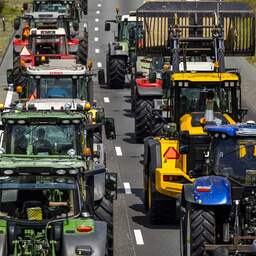 Residents of Noord and Broek in Waterland held a protest today on a bridge near the IJtunnel to show support for the farmers. They also protested against the cabinet.
According to one of them, Patrick van Bronswijk from Floradorp, the protest has been taking place all week between 4 pm and 6 pm. The demonstrators stand on the bridge with upturned Dutch flags and farmers handkerchiefs.
"What struck me was that there was a lot of support," says Van Bronswijk. From coaches and cars coming out of the IJtunnel and honking their horns. And from metro drivers. I do plan to go more often."
Protests are not only made against the nitrogen plans. "It's just a bit the same as with the 'Yellow Vests'. It's just a bit everything, it's going in the wrong direction. They are very peaceful people, educated and who work, who have legitimate concerns."
Today there were about forty activists, but Van Bronswijk expects even more next week.
---