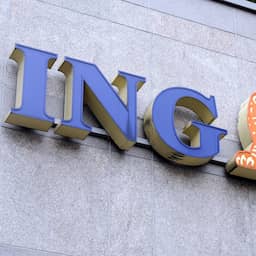 Around half past two, four climate activists appeared on the Lange Viestraat in Utrecht. At the same time, there were also protests in Zeist. It is part of a national campaign by Extinction Rebellion against ING. They are angry about the billions of euros that the bank is investing in the fossil fuel industry and are demanding change.
"ING Fossil Free", is written on a sign of the action group. It is a message to the bank's employees and shareholders, but also to customers. Utrecht is one of the 23 places in the Netherlands where Extinction Rebellion demonstrates today. This is done in the city center at an ING branch on the Lange Viestraat.
Normally this is a place where people can go to arrange banking matters, to ask for tips on starting their own business or simply to have a cup of coffee with entrepreneurs from the region. But this afternoon, the usual course of events was disrupted by four members of Extinction Rebellion. When the activists are asked to leave, two of them will refuse. They are prepared to be arrested by the police.
livable future
Rozemarijn van 't Einde is one of the people demonstrating. "ING is blocking a viable future. Despite the fact that the climate crisis is getting worse, this bank has financed the fossil fuel industry with more than 50 billion euros since the Paris Agreement in 2015. More than 50 billion! That's why we have to take action. Customers can email ING to to stop this." Action is also being taken in Zeist and Amersfoort.
The activists targeted 24 locations, ING confirms that protesters are indeed present at 14 locations. "Protesting is their right, and as long as they don't hinder customers and staff, they can go ahead," said spokesman Harold Reusken of the bank's national headquarters.
This year alone, the group organized seven demonstrations against ING. Other 'polluting' companies and organizations are also suffering. At the end of last year, for example, the building of the PGGM pension fund in Zeist was occupied.
By the end of the afternoon, all actions have stopped. The police came to the location in Utrecht and arrested three members of the action group, including a photographer, for trespassing. Shortly afterwards, they were released again, Van 't Eind said. She speaks of a successful and peaceful action.
---