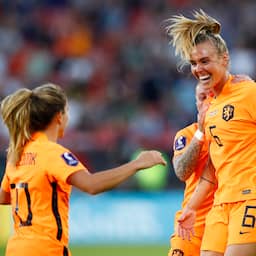 Given the circumstances, Jill Roord is satisfied with the point that the Orange women conquered on Saturday against Sweden in the first group match at the European Championship: 1-1.
During the first half, the defending champion Sari van Veenendaal and Aniek Nouwen had to retire with an injury. In between, Sweden had opened the scoring in Sheffield through Jonna Andersson.
"I think we were fine in the race, but then that collision", Roord refers to the incident in which Van Veenendaal came into contact with Lynn Wilms when coming out, after which Stefanie van der Gragt became unbalanced. and fell hard to the ground. Van der Gragt was able to continue the fight, but Van Veenendaal dropped out later.
"After that collision, we said to each other that we had to cross the line until halftime. But we still fell 1-0 behind and then Aniek also fell out. I am therefore very proud of how we have performed. We fought back. We were in control at many stages and didn't give much away."
It was Roord who took care of the important 1-1 in the 52nd minute. "There was some luck with that, I got the ball out of the box. This is a very important point."
The Netherlands will continue the tournament against Portugal on Wednesday at 9 PM and will close the first round next Sunday with a duel with Switzerland. Earlier in the day, the teammates of Orange played a draw against each other: 2-2. "We have to win the next two games and hopefully we will win the group," said Roord.
Standings in group C
1. Portugal 1-1 (0) 2. Switzerland 1-1 (0) 3. Netherlands 1-1 (0) 4. Sweden 1-1 (0)
---