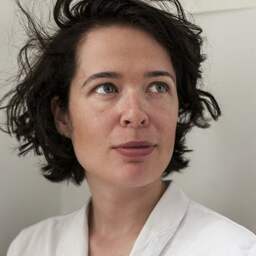 The arm and shoulder of Poet Laureate Lieke Marsman have been amputated because the radiotherapy she follows has not worked well enough. That writes Marsman, who in April 2018 a malignant bone tumor in her upper back was discovered, on Twitter.
As a result of the tumor, Marsman could still move her right arm, but could no longer raise it. She described this process in her collection of poems The next scan takes 5 minutes.
"The poison cup had to be completely empty", tweeted the 31-year-old poet Friday night. "This spring's radiotherapy did not help at all, so my arm and shoulder were amputated this morning." Marsman speaks of "a tough recovery", but remains positive. "As you can see, I'm already tweeting."
At the beginning of last year, a committee of poets and poetry experts appointed Marsman as Poet Laureate for two years. This made her the successor of Tsead Bruinja.
The Netherlands has had a Poet Laureate since 2000, whose task is to make it clear that poetry is something special and to make poetry accessible to a wider audience.
Earlier this week it was announced that Marsman will be one of the guests in the new season of Zomergasten this summer.
---