Sonic has a place at the heart of the XBNL community and Sonic Origins was highly anticipated on the XBNL Discord. The game is now a few days old and we asked community member DM4S to share his impressions with our supporters. You can read his review here:
SEGA does what Nintendo doesn't. This was a well-known slogan in the 90's that SEGA used to market their Megadrive/Genesis system. But they wouldn't win the battle with Nintendo and its mascot Super Mario with just a slogan. So there had to be a mascot who could compete with the well-known plumber. And behold the birth of SEGA's most famous icon: Sonic 'I am faster than a plane' the Hedgehog.
Over the years, many adventures of this blue hedgehog have come true. One is less good than the other, but despite the fact that SEGA no longer competes in the console "wars", Sonic is still fully present. And with two well-received films recently, he is arguably more popular than ever before.
Along with the second film, Sega now comes up with Sonic Origins. A compilation of the games released for the Megadrive/Genesis and SEGA CD. These include Sonic the Hedgehog 1, 2, 3 & Knuckles and Sonic CD.
old vs. New
When you start the game you can immediately choose from all games. Don't play this game first before you can start the next one. You choose where to start!
Each game consists of several modes: a Classic Mode, Anniversary Mode, Boss Rush Mode. When you've completed a title, you unlock a fourth option, which is called Mirror Mode (lives can be played in opposite directions).
But, what's the difference between Classic Mode and Anniversary Mode? Well, see that as a hard and easy mode. Where Anniversary Mode acts as easy mode where you have unlimited lives and Classic Mode is true to how the game was originally, with a limited number of lives and game over screens. Anniversary Mode has been scaled up to 16:9 widescreen, which means that you don't see those annoying black bars on the sides that you do have in Classic.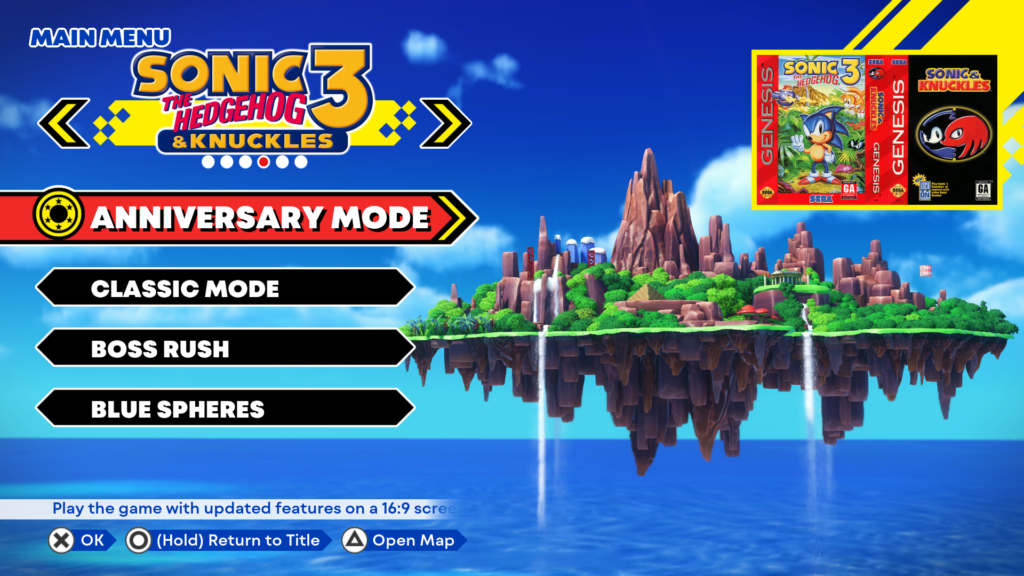 Nice fast action† paper thin story
The games still play just as well as they used to. You run, dash and platform yourself through the levels at a fast pace. In addition, you try to get as many rings as possible to reach the optional secret stages where you get the Chaos Emeralds. This is what the wafer-thin story revolves around.
Dr. Robotnik wants to rule the world, so he goes in search of the 7 Chaos Emeralds. You, Sonic (Tails and Knuckles), have to put a stop to this. You can do this by playing the games as separate pieces, but there is now also an actual Story Mode that links all 4 games together by means of beautiful cartoony cinematics.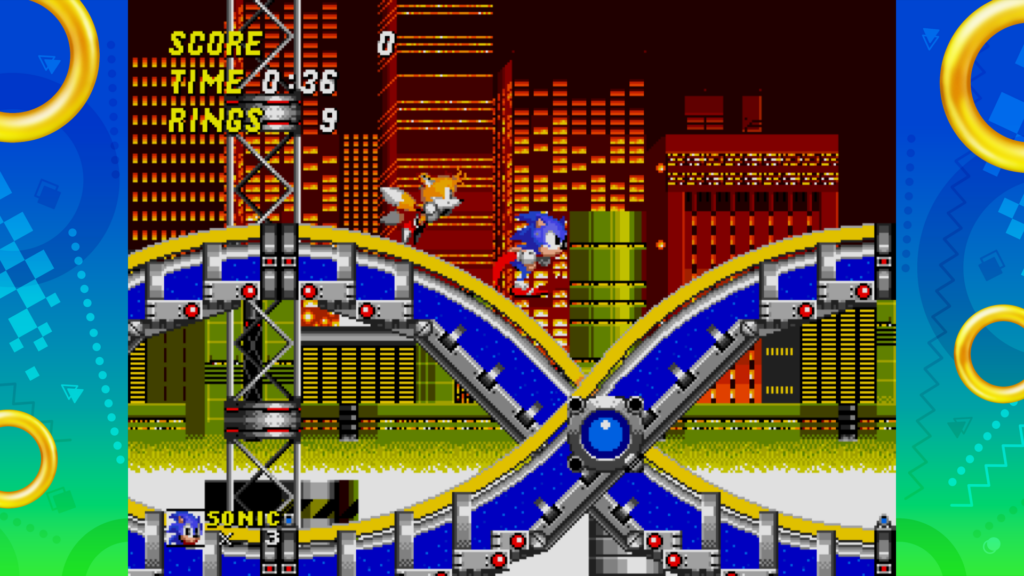 Throughout the levels you can find coins that you can use to unlock various art, sound samples and movies in the sonic museum. You can also get these coins through a nice extra play mode called missions. Here you get to choose a piece of level in which you have to complete a mission. This can range from reaching the finish line as quickly as possible or destroying a number of enemies. There are 5 degrees denoted by stars. 1 star = easy, 2 stars = normal, and so on. The better you perform, the higher the rank and the higher the amount of coins you can earn. Despite the different difficulty levels, I found them quite easy and achieved an S rank without too much effort. I would have liked to have seen a slightly firmer difficulty curve here.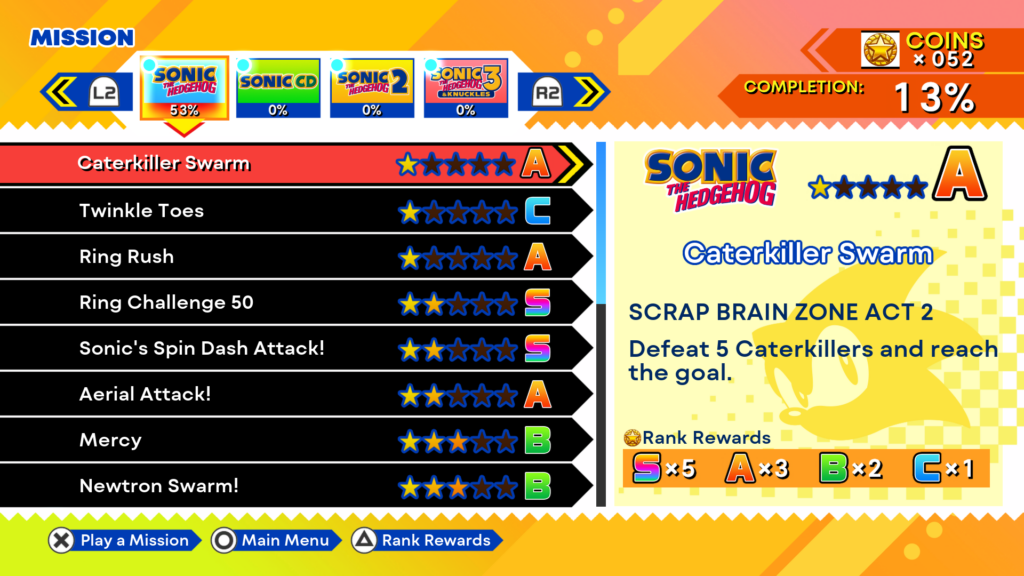 New Soundtrack
I don't need to waste too many words about the soundtrack. This one is still good! The only thing that has changed are a number of songs in Sonic 3, because certain rights have expired (Micheal Jackson has contributed to a number of songs). The newly composed songs are old versions that were made for MJ's collaboration. Unfortunately, these songs do not have the same quality as the rest of the soundtrack and it is a loss that the original songs are not included for the nostalgic values.
Conclusion
Overall, Sonic Origins is a nice compilation with some nice additions, such as the missions and collectibles. As a player you can quickly spend quite a few hours with the story, achieve missions on S rank, or play all games in Mirror Mode again. It is also fun to unlock the various artworks and movies. Are you new to the franchise? In this bundle you get the best games that Sonic has ever produced. Hours of entertainment are guaranteed. As a real die hard fan you will be done with it after playing the games again and unlocking the collectibles. The game is worth playing, but you'll have to check for yourself whether the mentioned drawbacks and the relatively high price can be justified for you personally.
---