British politicians and international world leaders are divided on the announced departure of Boris Johnson as Prime Minister of the United Kingdom. Johnson's supporters praise his commitment to the country, while political opponents, including critical party members, are angry that he is not immediately leaving as prime minister.
The reaction within the Conservative Party is mainly relieved. British Foreign Secretary Liz Truss said Johnson had "made the right decision". She cites Brexit, the corona vaccination trajectory and support for Ukraine as the main achievements of the government under Johnson.
According to Truss, the country needs "calm and unity" as it searches for a new leader. Truss himself is often mentioned as a possible successor to Johnson as party leader and thus prime minister.
MP Tom Tugendhat made himself available to succeed Johnson in January as a result of the partygate scandal. Just like Truss calls He thinks Johnson's departure was the right decision and commends the outgoing Prime Minister for his services around Brexit, the corona pandemic and the war in Ukraine.
Within the Conservative Party there is also criticism that Johnson will stay on until a successor is found. Former Secretary of State George Freeman called on Johnson to leave immediately so someone else can temporarily run the country. John Major, who served as Prime Minister on behalf of the Conservatives from 1990 to 1997, called it "unwise" to let Johnson stay on until the fall.
When asked, Johnson's predecessor Theresa May did not want to anticipate who should become the new British leader. She said the next prime minister should focus on "bringing back unity to the party and the country".
Boris Johnson's supporters, including his wife Carrie and their newborn daughter Romy, attended his press conference and showed their support with applause.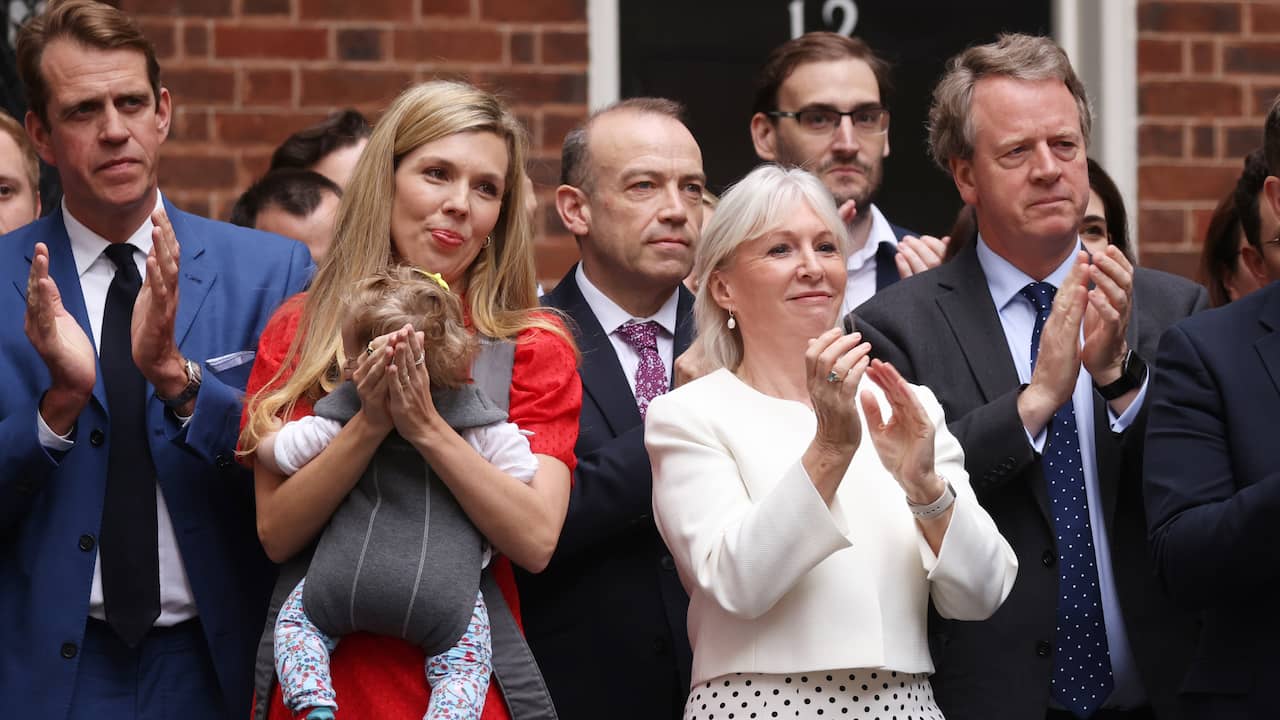 Boris Johnson's supporters, including his wife Carrie and their newborn daughter Romy, attended his press conference and showed their support with applause.
Photo: Getty Images
Opponents want Johnson to resign immediately
Political opponents of Johnson are not happy with his announced departure, although many of them believe that he should also leave as prime minister immediately.
Keir Starmer, the leader of the largest opposition party in the British Parliament, calls it "unfair" that Johnson will remain as interim prime minister for the time being. "He has to go completely, this can't go on any longer. His own party thinks it's been enough, then they can't saddle the rest of the country with him for the coming months," said the Labor leader.
Starmer warned before the press conference that his party would table a vote of no confidence if Johnson did not resign as prime minister immediately. "We don't just need change at the top, we need a completely different government."
Scottish Prime Minister Nicola Sturgeon called Johnson's temporary stay is an "untenable proposition". She sees the "demise of this rotting government" once again confirming that the time is right for Scotland's independence from the United Kingdom.
International leaders little regrets about Johnson's departure
Outside the UK, Johnson's announced departure has been met with little disappointment. Irish Prime Minister Michael Martin sees opportunities to improve the "tense relationship" between his country and the UK caused by Brexit. "Prime Minister Johnson and I often spoke, but rarely agreed. As a result, relations between our governments have been under constant pressure recently."
Michel Barnier, who is leading the Brexit negotiations on behalf of the European Union, hopes Johnson's departure will lead to a "more constructive, more respectful" relationship with the United Kingdom.
The Russian government said it welcomed Johnson's departure through a spokesman. The Kremlin called him "a stupid clown" who gets his wages for supplying weapons to Ukraine. "He doesn't like us, we don't like him either," the Kremlin said.
Ukraine thanked Johnson through presidential adviser Mykhailo Podolyak for his support. The British prime minister, according to Ukraine, was at the forefront of aid to the country and was one of the first to see the Russian attack on Ukraine coming, calling it an invasion.
---