The exciting war film Cadet 1947 (2021) can be seen on Netflix from today. The film is set in Indonesia, just after World War II, and is based on a true story.
Many books and films about World War II revolve around Europe, or perhaps very occasionally the US and Japan. But far-reaching things also happened in the rest of the world during and after the war. After the war there were still a lot of Dutch armed forces in Indonesia, and part of the local population was not at all interested in this. Kadet 1947 revolves around an attack by a group of cadets on the Dutch military in their country.
The war film was made by the directorial duo Rahabi Mandra and Aldo Swastia, who also wrote the screenplay for Kadet 1947 together. The lead roles are played by Kevin Julio, Bisma Karisma, Marthino Lio, Chicco Kurniawan and Wafda Saifan Lubis.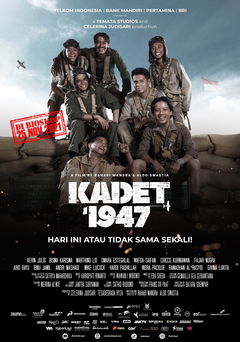 8.7 Watch on Netflix • After the Second World War, a group of cadets from the Indonesian Air Force plans a secret attack on the Dutch armed forces.
Cadet 1947 is now available on Netflix. You can find the full range of Netflix here.
Image: Still 'Kadet 1947' via TMDb
---