The first spectacular trailer of Amsterdam (2022), David O. Russell's new film, is out now. The film is full of big names and revolves around three atypical friends who get into trouble in the Dutch capital.
Amsterdam revolves around two soldiers and a nurse (Christian Bale, John David Washington and Margot Robbie), who end up in the Netherlands together and make a pact to take care of each other – no matter what. Their friendship blossoms and they have a wonderful time together until they are charged with murder. They go looking for help, but it's not exactly easy.
Watch the promising trailer below:
In addition to Bale, Washington and Robbie, Robert De Niro, Alessandro Nivola, Andrea Riseborough, Anya Taylor-Joy, Chris Rock, Matthias Schoenaerts, Michael Shannon, Mike Myers, Taylor Swift, Zoe Saldaña and Rami Malek. Together, this star cast creates a historical drama in which fact and fiction often intertwine.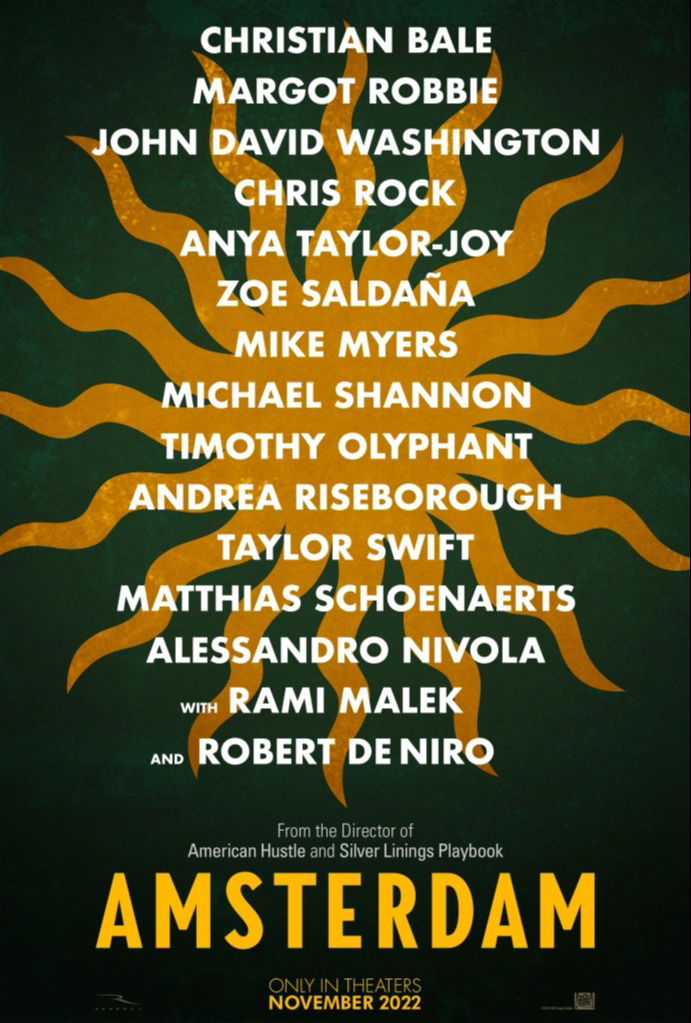 Poster 'Amsterdam' via 209th Century Studios
David O. Russell directed the film. In recent years he has made Silver Linings Playbook (2012), American Hustle (2013) and Joy (2015). The film is being produced by Arnon Milchan, Matthew Budman and Anthony Katagas.
Amsterdam is from Thursday November 3, 2022 can be seen in cinemas all over the Netherlands. The full cinema agenda can be found here. Three friends witness a murder in the 1930s. During the investigation of this crime, they themselves are labeled as suspects.
Image: Still 'Amsterdam' via TMDb
---