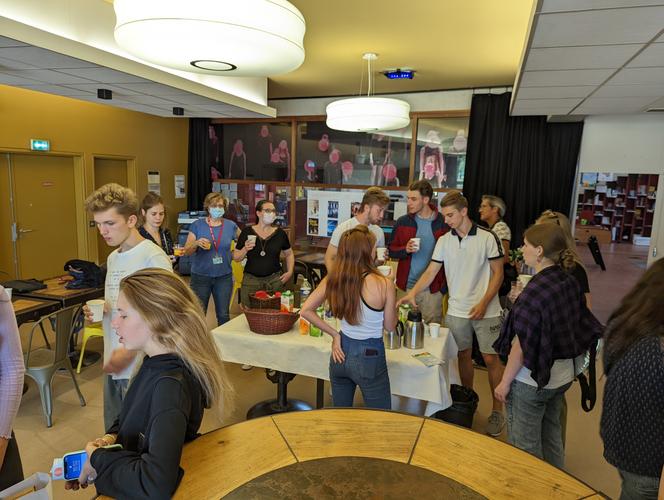 Young Ukrainians participated, Friday, June 24, in a snack to close the "summer school", at the student house in Poitiers. UNIVERSITY OF POITIERS
At the end of June, Irena, Dmitry, Angelina and six of their Ukrainian compatriots met at the student house of the University of Poitiers. A snack was organized to close the end of a six-week adventure: a summer school, which taught them the basics of French. It is also an opportunity for them to establish links with compatriots who have arrived in the Poitou region. "We avoid talking about the war when we are among ourselves, we really prefer to think about something else," says Dmitry, an 18-year-old Ukrainian refugee. "When we met them, we found them shy and quite worried. But as soon as they found themselves together, it is the carefreeness of their youth that starts again, "observes Christine Fernandez-Maloigne, vice-president of the University of Poitiers.
This summer school, set up by the Poitou University, brought together around thirty young people from Ukraine. From September, there will be about twenty of them continuing their studies in this establishment, within a university degree (DU) called "gateway". Created in 2019, these one-year courses are designed for exiled students, whether or not they have refugee status. In total, in six years, nearly 10,000 students in exile have graduated from these courses. The courses combine both French and an introduction to cultural life in France. Contrary to DUs in French as a foreign language (FLE), DU bridges (there are about thirty of them in France) authorize access to scholarships based on social criteria from the Crous to those who are registered there. The problem is that in normal times these DUs are already saturated: each year, they record an average of 3,000 requests for 1,500 places.
Read the report: Article reserved for our subscribers Ukraine: foreign students who fled the war ordered to leave France
Tense situation
This year, with the influx of applications from Ukrainian students, the situation is even more tense for the universities offering these courses, and who have to deal with very limited financial means. About 700 requests from students from Ukraine are registered for the bridge DUs. The room for maneuver is lacking.
Mathieu Schneider, vice-president of the University of Strasbourg, wants additional credits to be released by the Ministry of Higher Education to finance these courses. He is also the president of the network Migrants in higher education (Mens), the structure which pilots, at the national level, the DU bridges. On June 23, he published a column in Le Monde, in which he denounced the difficulties encountered by Ukrainian students in enrolling in training in France. The funding needed to allow establishments to integrate "in addition to existing groups" these students from Ukraine into their DU gateways amounts, according to him, to 700,000 euros. In 2022, the Mens network obtained a grant of 250,000 euros, which is 50,000 euros more than the previous year.
The University of Poitiers has decided to finance the studies of these young people with its own funds, at least for one year.
While waiting to know if they will have additional means from the State, the University of Poitiers has decided to finance the studies of these young people on its own funds, at least for one year. "We will do our best to welcome them if they wish to resume their studies with us," says Caroline Bélan-Ménagier, in charge of international relations at the Poitou University. "To welcome these young people, we need the means to hire teachers. But also to accompany these young people for the administrative formalities, for the medical aspects ", develops Christine Fernandez-Maloigne, vice-president of the university of Poitiers.
Other establishments will also finance this type of program with their own funds. The University of Strasbourg will tackle this in September, for fifty Ukrainian students. The University of Rouen was able to obtain funding of 150,000 euros from the Normandy region for the creation of this same DU. This new course will accommodate two teacher-researchers and fifteen Ukrainian students.
Read also: Article reserved for our subscribers The suspended future of African students who fled Ukraine
At the start of the school year, Irena, 17, will enter directly into a license at the University of Poitiers, without going through the airlock of the DU gateway. She already speaks French very well: she studied it in Ukraine for seven years. Originally from Kharkiv, where her father stayed to "take care of her grandparents", she arrived in France on April 7 with her mother. They now live in a studio in Poitiers, lent by residents through an association for aid to refugees. Irena found herself in Poitiers by chance of requests. "The University of Poitiers is the only one that answered me, that's why I came here," explains the young girl, who has just taken her last exams remotely with her high school in Ukraine. In September, she will integrate a bachelor's degree in applied foreign languages ​​(LEA). She who, in addition to Ukrainian, already knows French, Russian and English, will learn Portuguese and will thus add a string to her bow.
---