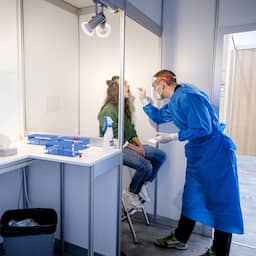 The number of positive corona tests has increased again in the past week, but less strongly than in the weeks before. RIVM reports in its weekly report on Tuesday that the data seem to indicate that the peak of the current wave is approaching.
Last week, 39,283 positive tests were registered by the RIVM. That is 15 percent more than the week before, a smaller increase than the weeks before. "The number of infections is therefore still increasing, but the increase has slowed down in the past two weeks. This may indicate that we are approaching the peak of the summer wave," according to RIVM.
The GGDs carried out 48,114 tests last week, the largest number since the beginning of April. In 71 percent of the cases, the person tested was actually found to have the virus. That is the highest percentage ever.
The number of positive tests may be biased because only certain groups can still go to the GGD for a PCR test. These are, for example, healthcare workers, residents of nursing homes and people who need a recovery certificate.
RIVM has a site where people can report whether they have corona complaints. The number of reports also stabilizes on the Infection Radar. The institute also monitors the virus particles in the sewage water. In the Amsterdam and Rotterdam regions, which were ahead of the rest of the Netherlands in terms of infections, that figure is also stabilizing.
Pressure on hospitals continues to increase
The pressure on hospitals continues to increase. Last week the complaints of 462 people were so bad that they had to be hospitalized. That is the largest number since the first half of April, almost three months ago. RIVM received thirty reports of corona-related deaths, twice as many as last week.
On Monday it was announced that the RIVM and the GGDs will start preparing a new vaccination campaign for after the summer. According to Minister Ernst Kuipers (Public Health), there are currently no reasons for an extra round of injections, but they will probably arise in the course of the year.
---