Botic van de Zandschulp thinks he can't blame himself much after his elimination in the fourth round of Wimbledon. The Dutchman initially hoped for a stunt against Rafael Nadal, but made too many mistakes to falter the 22-time Grand Slam winner: 6-4, 6-2 and 7-6 (6).
"I thought he was playing a bit more offensively here than at Roland Garros," said Van de Zandschulp at his press conference in London. "With every short ball or slice I hit, he took the initiative. He's just really eager to win every point."
"In addition, he served surprisingly well, a lot better than the last matches I've seen of him on grass. The way Nadal played today, he is the best player I've seen play here so far."
The 26-year-old Van de Zandschulp lost the first set due to a break at 4-5 and then did not come into his game for a long time, so that the ten-year-older Nadal was able to finish quickly. De Veenendaler was partly to blame for this, because he made a relatively large number of unnecessary mistakes. Over the entire game, it was 34, seventeen more than Nadal.
"I think if you play too defensively, he will take over the initiative. That's why I played a little more aggressively on his second serve," said Van de Zandschulp. "I thought I played a good first and a good third set. It was a shame that I was broken at 5-4 and then it ran away a little too quickly in the second set."
Rafael Nadal can continue to hope for his 23rd Grand Slam title.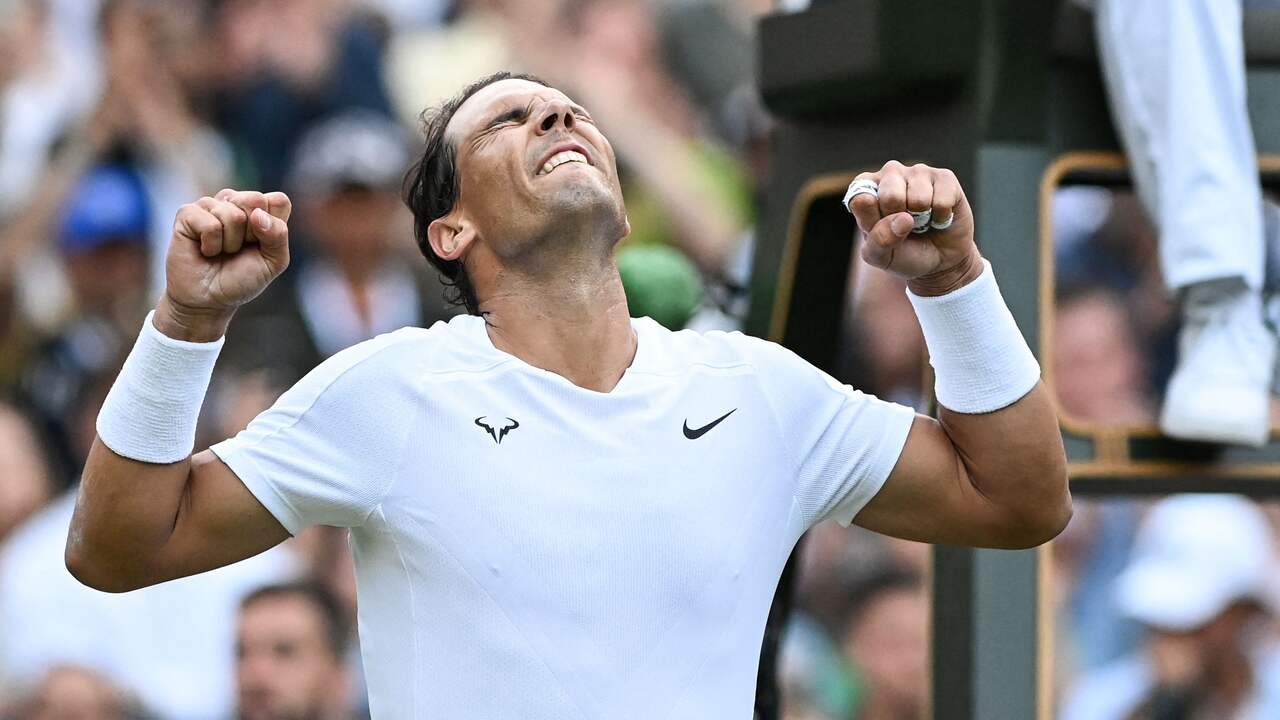 Rafael Nadal can continue to hope for his 23rd Grand Slam title.
Photo: Getty Images
'Normally I don't miss a smash that quickly'
Nadal headed for a quick victory, but he failed to serve out the match with a 5-3 lead and left no less than three match points in the tiebreak. Van de Zandschulp was close to a fourth set, but on Nadal's fourth match point, the Dutchman worked a relatively easy smash into the tram rails.
"I have to say that I don't normally miss a smash that quickly. It was an opportunity to go to 7-7, but it also got a bit darker. I just missed him. Too bad it was 7-6 in the tiebreak happened. I started to believe more and more in my chances to take the set," said Van de Zandschulp.
Despite the defeat in three sets, the number 25 in the world had enjoyed the podium on which he stood. "The atmosphere was great and it was only at the end, when I came back, that I completely got it. Everyone here also likes Nadal, although Roger Federer is even more popular."
Van de Zandschulp will only be back in action in two weeks, at the clay tournament in Hamburg. "I can look back on a good Wimbledon and have been able to play a lot of pots on grass. There is certainly still improvement, for example in taking time away from my opponent. That is not quite in my system yet, but we will work hard again to work."
---