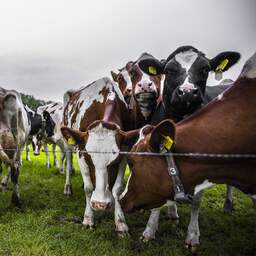 Despite the appointment by the cabinet of former minister Johan Remkes and the continuous farmer protests, the provinces are continuing with plans to achieve nitrogen reduction, according to a tour of NU.nl. "Waiting now is not a good idea," said the spokesman for the province of Gelderland.
Only at the beginning of August will the mediator Remkes, appointed by the cabinet, start talks with farmers' organizations in order to get out of the nitrogen impasse. Provinces that have to make significant reductions on the basis of the government's nitrogen plans do not wait for those plans.
They must present detailed plans to achieve nitrogen reductions by 1 July next year at the latest. There is no time to lose. In a number of areas, such as the Gelderse Vallei and parts of North Brabant and Limburg, nitrogen emissions must be halved, which has again led to fierce protests by a group of radical farmers today.
"In North Brabant we will not wait until August," a spokesperson for that province said. In that province, the Brabant Development Approach Nitrogen started in 2019. "We are and will continue to work with all partners on a solution for improving nature, including tackling drought and climate adaptation, and reducing the nitrogen blanket."
'We will continue with the Overijssel approach'
Also in Overijssel they are not guided by what is happening in The Hague. There too, a start was made in 2019 with plans to achieve nitrogen reduction. "We will continue with the Overijssel approach," a spokesperson said. Deputy Gert Harm ten Bolscher previously told NU.nl that he is prepared to achieve the necessary nitrogen reductions, but in such a way that there is "perspective for our agricultural entrepreneurs and in such a way that the countryside remains liveable" .
"We are and will continue to be busy," says a spokesperson for the province of Gelderland, where large livestock farms are located, just like in Overijssel and North Brabant. "We must submit our plans before 1 July and that will remain in place. But we do think it is important that Remkes realizes that it is necessary to ensure that there is perspective for farmers."
"Up to now we have missed a future perspective for farmers in the plans. We hope that Remkes can make a significant contribution to this," says a spokesperson for the Inter Provincial Consultation. He also indicates that the preparations for nitrogen reductions continue unabated. "We cannot afford to stand still. Nature is deteriorating and that is not standing still. We will have to work."
---