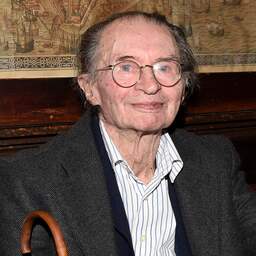 Writer and poet Remco Campert passed away on Monday at the age of 92 in his hometown of Amsterdam. Campert is considered one of the most important post-war Dutch writers. He became widely known with the book Hetleven is vurrukkulluk, in which he gave a voice to the generation that rebelled in the free sixties.
The writer was born in 1929 as the son of poet Jan Campert, who died in the Neuengamme concentration camp during the war. Remco's love for art and culture was also nurtured on his mother's side: his mother was actress Joekie Broedelet, who later appeared regularly in films by Van Kooten and De Bie.
After the turbulent war years, where he lived in several foster families, he moved to Amsterdam as a teenager, where he was taught at the Amsterdam Lyceum. He did not finish school and started earning money writing advertising copy and translation.
In the art circuit he met colleagues such as Rudy Kousbroek and Lucebert, with whom he founded the literary magazine Braak. This led to a wave of experimental poets who later became known as the Vijftigers.
Campert was the most accessible Fifties
These poets did not see themselves as a group, but they did share the need to rebel against what they saw as the sluggish Dutch literary tradition. Campert was regarded as the most accessible poet in this company, partly because of his humor. His lyrics often had partly autobiographical elements and can be called cynical or ironic.
Campert published his best-known book in 1961. In Life is vurrukkulluk he tells about two friends who are in love with the same girl. Then they end up in a world of free love and marijuana. The book took a long time. The book is still popular among students, partly due to a reissue in 2011, as part of the student project Nederland reads.
The writer has won several major prizes
In addition to a large number of books, Campert has also published for countless newspapers and magazines. In the fifties and sixties he mainly wrote for Vrij Nederland and Het Parool. His productivity faltered in the 1970s, when the author claimed to have developed a physical aversion to writing. In 1976 he did receive the PC Hooft Prize for his poetry.
In the eighties his writer's block came to an end. In the 1990s, Campert shared a daily column with Jan Mulder on the front page of the Volkskrant, CaMu. Together with Bart Chabot, the two men initiated a literary tour of the theaters several times. In 1999, the two columnists wrote the book week gift.
Several books were made into movies
Even in old age, Campert continued to attract attention with his publications. In addition, several of Campert's books have been filmed, such as Het Gangstermeisje (1966) and Het Leven is vurrukkulluk (2018), both by director Frans Weisz.
In 2015 he was awarded the Prize of Dutch Literature, a three-yearly oeuvre prize for an author who occupies an important place in Dutch-language literature. He declined a high royal honor presented to him in 2000. He could not reconcile this award with "my thoughts about the monarchy".
---