After Kate Bush's "Running Up That Hill" brings Stranger Things (2016– ) returns attention to an older song, in this case Metallica's "Master of Puppets". Thanks to the final season of Netflix's Stranger Things, Bush's 1985 hit soared to the top of the US charts after being included in Season 4. In the second part of Season 4, Eddie Munson, played by Joseph Quinn, enters the Upside Down with the rest of the Hawkins crew and vows to face the evil Vecna.
No other number
In the scene, Eddie grabs his guitar and plays Metallica's "Master of Puppets" while performing "the most metal concert ever". As he riffs on his guitar, the bats around Vecna's lair are lured away, allowing Steve, Nancy and Robin to attack Vecna.
The show's music supervisor, Nora Felder, explains that executive producers Matt and Ross Duffer woven the song into the script during pre-production.
It was another 'it has to be this song' moment. This part of the story was expected to be a pivotal and, above all, hair-raising scene where Eddie fought heroically for his life. I believe the Duffer Brothers felt that playing "Master of Puppets" in the extended scene was the obvious choice. No other number was discussed further and we immediately made sure it was possible.

Nora Felder
Metallica's response to Stranger Things
Metallica frontman James Hetfield has said the song, from Metallica's breakthrough album of the same name and widely regarded as one of the band's classics, is essentially about drugs and how addiction controls people.
The band signed after the pitch. Felder confirms that Quinn actually plays guitar in the scene: "Yeah, Joseph took the time to learn the guitar riff and actually played along with a guide track. Everyone thought he did a great job."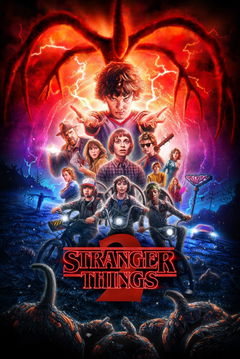 8.7
Stranger Things (2016– )
Watch on Netflix • After a little boy goes missing under very suspicious circumstances, mysterious things come to light in the fictional town of Hawkins, Indiana in 1980s, including secret experiments, supernatural powers and a strange girl.
Image: Still 'Stranger Things' via Netflix
---