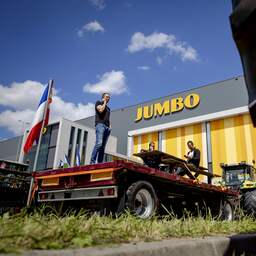 The consequences of the blockade of various supermarket distribution centers are now starting to become visible in many supermarkets, the Central Bureau for Food Trade (CBL) told NU.nl on Monday. It is mainly visible in gaps in shelves where normally fresh products, such as milk, are located.
In protest against the cabinet's nitrogen plans, farmers set out early on Monday to block supermarket distribution centers. At least twenty distribution centers are still blocked around 3.45 pm, including several from chains such as Albert Heijn and Jumbo.
The consequences of the farmers' blockades are now becoming apparent. According to the CBL, there will be gaps in the shelves for fresh products in many supermarkets. Normally, these products are replenished several times a day, but in many cases this is not possible due to the blockages.
The supermarket umbrella also fears that the blockages will lead to spoilage of fresh products, which must then be thrown away. Earlier in the day, the CBL warned about unnecessary food waste as a result of the actions of the farmers.
The blockages are also felt by grocery delivery companies such as Picnic. "We had to cancel almost the entire morning delivery, because no one was able to enter or leave the distribution centers. That involves thousands of customers," CEO Michiel Muller previously told NU.nl. Speed ​​camera delivery drivers are also hindered by the blockades, because they are partly supplied from Jumbo distribution centers.
---