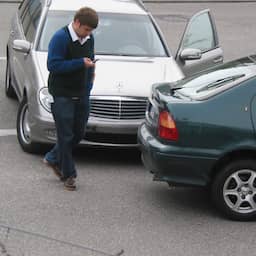 Anyone who continues to drive after a collision in which no injuries were reported still have twelve hours to report to the police afterwards. A majority in the House of Representatives finds this unacceptable and has requested the minister to scrap or shorten this 'cooling off period'. That would be sensible, thinks traffic psychologist Gerard Tertoolen.
Judging by reports in the media, you might think that it is commonplace that those who cause an accident continue to drive. Inquiries with the Public Prosecution Service (OM) seem to paint a different picture. The number of times this happens has fluctuated around four thousand times a year for years. Nevertheless, driving on after an accident is a criminal offense under the law. Offenders can risk a fine (minimum 500 euros) or even recovery of their driving license or a prison sentence.
But why do people actually drive on? Traffic psychologist Tertoolen: "The perpetrator may have something to hide, such as drunkenness, drug use or driving a stolen car. But it may also be that the driver freezes, as it were, loses control of the situation and no longer thinks rationally. The reaction is then to flee from the danger. The law provides space for this."
"You are punishable if you continue driving, but that lapses if you report to the police within twelve hours. I think that is a very long period myself, which can also be abused. Harmful substances that you had in your blood during the accident, have long since disappeared. Moreover, it gives you a kind of legitimacy to continue driving. If people see that others can easily get away with it, copying behavior is lurking."
"It should be the norm not to leave the scene of an accident."
Evert Jan Slootweg, Member of Parliament for the CDA
House of Representatives: Shorten the cool-down period
A motion that CDA member Evert Jan Slootweg submitted to cancel or reduce the reporting period to three hours at most, was passed by the House of Representatives. Minister Franc Weerwind (Legal Protection) sees little benefit in this plan so far. In a response to the motion, he reported that as of January 1, 2020, the maximum penalty for continuing to drive after a case has already been increased from three months to one year.
Weerwind: "Let me start by saying that not everyone who continues driving after an accident does so consciously or with bad intentions. Sometimes an accident is not noticed or panic arises, resulting in a flight reaction. I do not approve of the latter, but that is human."
"The twelve-hour period as included in Article 184 of the Road Traffic Act is intended for these types of cases. It encourages people to report if they realize that there has been an accident. That is also in the interest of the victims. Exclusion from prosecution for driving on after an accident explicitly does not apply to those cases where the victim is left helpless."
'Because the punishment is earlier, it will also pay less'
But Member of Parliament Slootweg believes that the law really falls short in this regard. "It should be the norm not to leave the scene of an accident. That is not the case now. A long reporting period offers a way out for people who want to hide that they are involved in an accident under the influence of alcohol or other narcotics."
"I am sorry that the minister is making a different decision, but he will have to implement the adopted motion. I expect a letter from the minister before the start of the recess, no later than 8 July, in which he explains how the motion will be implemented. ."
Isn't the CDA member afraid that the perpetrator will no longer appear at all because he sees no other way of covering up the cause of his behaviour? "Because people are penalized earlier when driving on, it also pays less to continue driving if you are under the influence."
Drive-through victim? These tips will help you track down the culprit
Of course, there is also an injured party when driving through. Jelle Smits of the Motor Traffic Guarantee Fund gives tips on what to do if the other party runs away:
Take pictures of the situation after the accident and check if there are images from a surveillance camera and request them. If possible, take pictures of the other party's vehicle or note the registration number. Check whether there have been witnesses and write down their details. The Guarantee Fund has at its website there is more information about witness statements and the witnesses can also fill in their statement there. Look for 'silent witnesses', such as broken parts or shards. If so, take a picture of that and collect it if you can. Do not forget to contact the police as soon as possible to file a report. Finally, in order to successfully submit a claim to the Guarantee Fund, a number of conditions must be met. View the interactive video of the Guarantee Fund†
What should you pay attention to after a collision? You read all about it in this article from AutoWeek†
We do not have permission for the necessary cookies. Please accept the cookies to view this content.
---