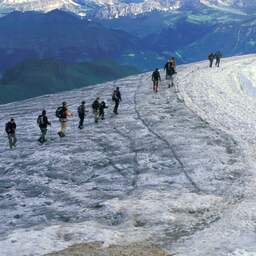 At least 17 people are still missing after a rupture of a glacier in the Italian Alps, reports the Italian news agency ANSA. The number of missing persons had previously been set at ten.
An avalanche broke out on Mount Marmolada on Sunday, leaving at least six dead and eight injured. Among the dead are three Italians and a Czech. Two individuals have not yet been identified, according to ANSA.
The Italian news agency reports that the search for the missing persons continued in the night from Sunday to Monday, including drones. Helicopters and dogs are also used in the search. Victims are taken to hospitals in nearby towns.
The Marmolada is the highest mountain in the Dolomites at 3300 meters. Due to an early heat wave in Italy, it was 10 degrees on the mountain on Saturday. Experts think there may be a connection between the heat and last weekend's avalanche.
---