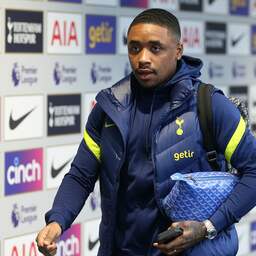 After long negotiations, Ajax and Tottenham Hotspur finally agree on Steven Bergwijn, reports The Telegraph Monday. The national champion would pay no less than 30 million euros for the attacker, making it the most expensive purchase ever.
According to De Telegraaf, Ajax is only waiting for confirmation from London. The team from Amsterdam would like to examine 24-year-old Bergwijn medically on Monday, after which the transition can be completed.
Bergwijn has been associated with Ajax for months. The former PSV player seems to have been personally around a five-year contract for a long time. Tottenham recently signed Everton forward Richarlison, which may have accelerated Bergwijn's departure.
If Ajax actually deposits 30 million euros for Bergwijn, then he is by far the most expensive player ever at the club from Amsterdam. The record is now still in the hands of Sébastien Haller, for whom 22.5 million euros was paid a year and a half ago.
At Tottenham, Bergwijn had to make do with a spare role. The 22-time international of Orange, who was also attracted for 30 million euros after a successful PSV time in January 2020, came to 83 games, eight goals and ten assists on behalf of the English top club.
Bergwijn must become one of Ajax's first summer acquisitions. Reportedly, the club of the new trainer Alfred Schreuder is also almost finished with AZ about the arrival of left back Owen Wijndal.
---