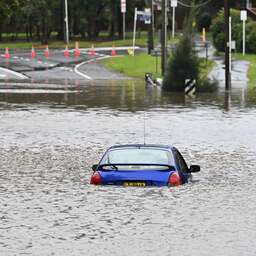 Some 32,000 Sydney residents have had to leave their homes this weekend due to the risk of flooding. The city in southeastern Australia is struggling with heavy rainfall, which has caused the water level in the rivers to rise sharply. It will probably continue to rain heavily on Monday. It is expected to become drier from Tuesday.
About 200 millimeters of rain fell in the affected areas last weekend, with peaks of up to 350 millimeters. That is the same amount of rain as normally falls in the entire month of July.
The rain has caused streets and bridges in the area to be flooded. A dam in Warragamba, a town west of Sydney, has also started to leak due to the increased water level.
Theresa Fedeli, mayor of Camden, a town southwest of Sydney, called the flooding "terrible," reports ABC News. "Most victims are still recovering from past floods and now it's happening again."
The floods are not exceptional in the Sydney area; these floods are the fourth in 18 months. Last March, the floods in the area claimed several more lives.
New South Wales Prime Minister Dominic Perrottet said he expects flooding in the state to become more frequent in the future.
---