Beer in hand, boys in jeans with a black T-shirt with print, and girls who have clearly tried harder. In groups they go through the week together at the neighborhood shack in Lunteren. The municipality remains at a distance, but that does not mean that everything is possible.
This article is from the Gelderlander. Every day a selection of the best articles from newspapers and magazines appears on NU.nl. You can read more about that here.
"Can I have the key to the Dixi?", one of the girls asks Jan, who owns the land in the outskirts of Lunteren with his wife Heidi on which the shack is located.
The two of them have three jobs: Jan does production work at factories, Heidi works in healthcare. And they still keep about sixty sheep on the land that used to belong to Jan's parents. But you can't live on that of course.
'Just go in the bushes'
The Dixi protrudes above the undergrowth on the other side of the dirt track where the shack is located. "Has one of the boys placed here", explains Jan. The toilet cubicle is only intended for women and is locked, because otherwise the men go in too.
"I haven't cleaned it yet! Just put it in the bushes," he warns. "Yes, bye", is the answer. "It's not dark enough for that yet."
The special thing about this booze is that Lunterans of all ages come. It is the only one of the chain in the outlying area that is known to the municipality where this is the case, says Luuk Miedema, self-employed person, and active as a prevention officer for alcohol and drugs in Ede, Rhenen and Nijkerk.
Friday routine
Most elderly people arrive in the early evening. The youngsters only later, from about nine o'clock. But not all. Girl next door Davida – also self-employed – is a hairdresser and says that she works until about five o'clock. Only not on Friday, then she stops earlier to go to the shack. "It's my Friday routine."
Young and old are looking for the same thing. 'Chatting and playing music' they summarize. Sing along with Hazes or heel on hardstyle. Behind the bar is a TV screen that plays videos.
"It's not just drinking, but also social bonding," says Jan, the youngest of Heidi and Jan's four sons. "Friends are made for life", his mother nods in agreement.
"Theo and Jan used to have a kind of shack together. That was a niche hut, but the idea behind it was the same," she says. Theo will also be there tonight, with his wife Jolanda, daughters Renate and Jessica, and son Gerrit. They also live nearby.
pimped
Father Jan in front of the shack on his land © Herman Stöver
This shack is a large mobile home. "We got them with a truck from Ede," says father Jan. He may have arranged that, but not for himself. Son Jan wanted it very much.
Jan junior has pimped the caravan, arranges that there is enough stock and store visitors put in money. With Omar, one of his friends. Both are still at school, the mbo in Amersfoort. Can be easily. "The shack is only open on Friday evenings."
The house rules are simple. "No drugs, we do not want that. That is bad for the image of the shack," says Jan. "And no quarrels or fights. If you have a fight, talk it out or you both leave." Father Jan is satisfied with how his son is doing: "He has the upper hand."
The number of visitors varies. From fifteen to once almost two hundred. That was the annual village festival on the Oud Lunterse Day. Son Jan knows that he can call his father if things get out of hand. That has happened once in the two-three years that the shack has existed.
Private Occasion
"There was a group of strangers inside. They were not behaving", father Jan recalls. "But when I arrived they had just left. Then we put up a sign that it is a private place, decided."
He also closed the shack once. After visitors kicked rubbish. "Beer bottles in neighbor's yards and stuff, I don't want that."
What father and son also do not want is visitors who get into the car with drinks. "Most come by bicycle," says father Jan. "But it happened that we didn't know they were with the car, it was parked out of sight."
guest bed
In rural areas, many traffic victims, often young and sometimes with alcohol, are noticed. "But not one of the traffic victims in recent years came from a shack," says Miedema. How does he know that for sure? "I check that every time I have an accident."
Cycling with alcohol should also be a thing of the past as far as he's concerned. Because that can also be fatal. "If someone is drunk, get them home or put them in a spare bed, but fix it," is the message he gives to shack visitors and their parents.
Together with fellow self-employed youth worker Anne Jan Odinga, he is more than welcome at this shack. Because of the way they carry out their work, but also because the municipality itself stays at a distance, father Jan says honestly. "I just don't care much for that."
Hate the municipality
It is part of the rural culture. Being proud of one's own village and flatly loathing the umbrella municipality. Under the place name sign Lunteren is in a smaller letter gem. Ed. In Lunteren there are stickers in circulation with gem. Lunteren on it, with which the hated gem. Ed is taped.
Many of the chain do not comply with all the rules. Just take the road signs hanging on the wall. That is actually not allowed.
And the distribution of the costs is a dilemma for every shack, Miedema indicates: "If beer is free, everyone will drink more. But according to the law you can't sell beer without a permit that is drunk on the spot. What then is wise?"
"At one shack they pass the cap around, at the other they take turns taking drinks," he knows. "Here they invest according to carrying and drinking power."
The municipality can keep a finger on the pulse via Miedema and Odinga and make adjustments if necessary. "We have made a piece of rubber between the rules and reality. So that it does not collide and you see what you have in common", Miedema describes his role.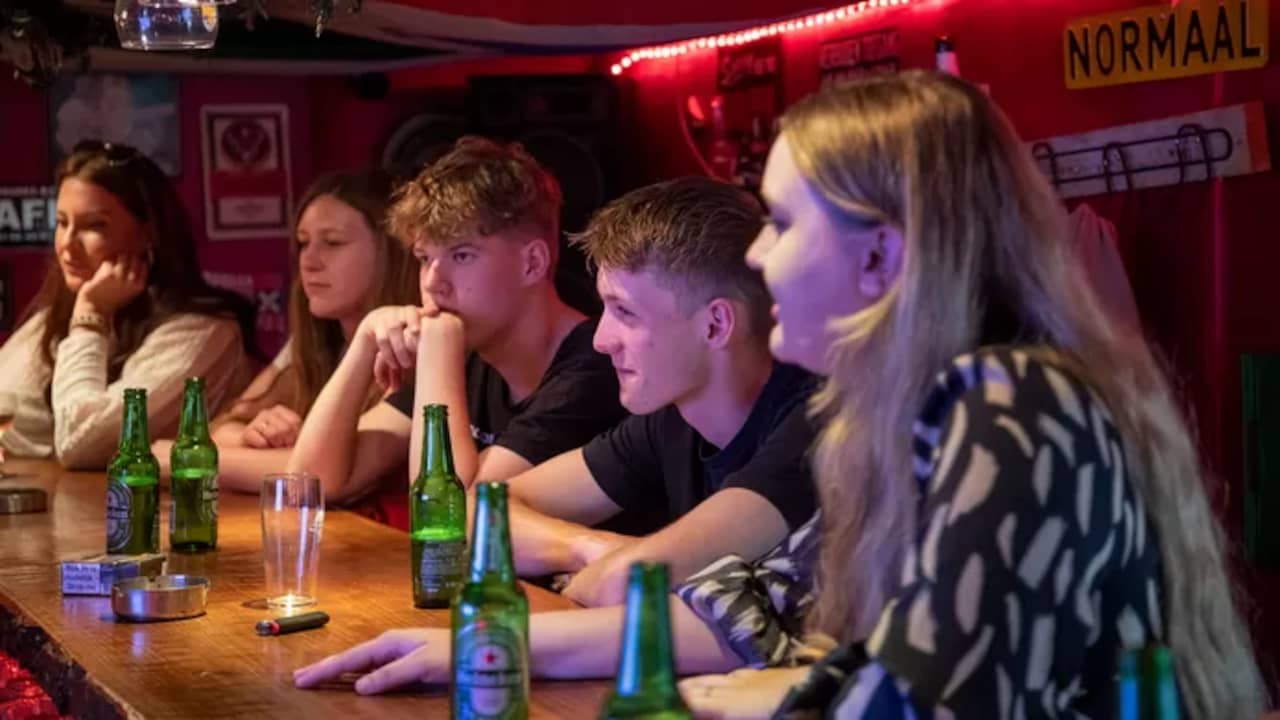 Father Jan nods in agreement: "You must not forget that Luuk and Anne Jan also provide information here. And see and help if someone is not doing well."
"We don't set any rules. That only makes sense if you also check," says Miedema. "But we do discuss everything with the young people and their parents. How safe it is, for example. That a fire extinguisher is handy. Or an illuminated sign above the exit. The next time we come, there will be such a sign."
Enforcement failed nowhere
The alternative is to maintain. "That has not succeeded anywhere and will not work", is Miedema's conviction. One of the neighboring municipalities had a very strict policy, he says.
"But the boa who had to check said: if I go to a shack and confiscate all the drinks, I won't leave the yard. He therefore announced his arrival. Then the young people would take everything from the shack that shouldn't be there. and then drove it back with the wheelbarrow."
At one point, another neighboring municipality opted for an extinction policy. "But the only thing that has died out is the extinction policy."
---